Are You Considering a Buttock Augmentation?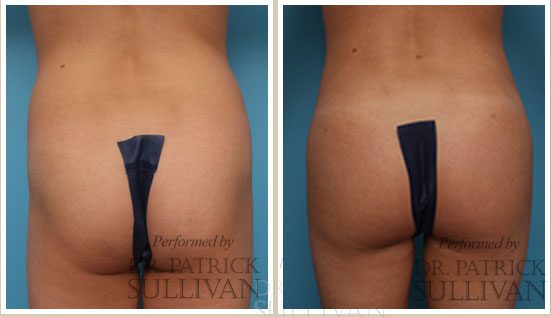 Buttock Augmentation Gallery
Do you wish you had a fuller, rounder bottom? Do you feel your backside is too small, too flat or not in proportion with the rest of your body?
If you answered yes, a buttock augmentation by Dr. Patrick Sullivan may be of interest to you! As a board-certified plastic surgeon and the Division Chief of Plastic Surgery at Brown University, Dr. Sullivan attracts patients from all over the world who want to experience his special techniques for helping people have a very natural, beautiful artistic enhancement.
Dr. Sullivan learned the technique in Brazil, a place well known for buttocks enhancement. There he learned from a surgeon whose most common procedure was buttocks enhancement. Dr. Sullivan was invited to Brazil to be a visiting professor and, while there, learned to carefully take fat from other parts of the body, specially treat it, and then use it to sculpt the buttocks into a beautiful shape. Yes, it is science, but it is really art. Shaping the buttocks is something Dr. Sullivan does with great care using his artistic skill. He only uses the patient's own fat cells with their associated stem cells when he is doing his fat transfer to the buttocks. He does not use implants.
Take a look at our before and after buttock augmentation gallery to see what Dr. Sullivan is able to do.
The most common complaints related to the buttocks are either they are "too big" or "too small." Dr. Sullivan can address both of these problems. Other cosmetic problems associated with buttocks are:
Cellulite
Sagging backsides associated with major weight loss
Sagging backsides due to aging
Backside never developing into what we want
What are your options?
Butt shaping is a surgical art requiring fine hand skills combined with a thorough understanding of the importance of anatomy as well as butt (gluteal) aesthetics and ethnic variations.
Butt reduction: Butt reduction is performed by liposuction, which reduces the fat from the butt and adjacent areas.
Butt augmentation: We feel increasing certain areas of the buttocks can best be achieved surgically by injecting one's own fat cells harvested from the person's own body. We have seen this be especially helpful in getting rid of unwanted fat in areas of the thighs, hips and back, and using this fat for something great.
We perform all these procedures, emphasizing artistically beautiful, natural-looking results. To learn more about this procedure, please feel free to contact our office online or by phone at 401-831-8300. We would be happy to answer any questions you may have.