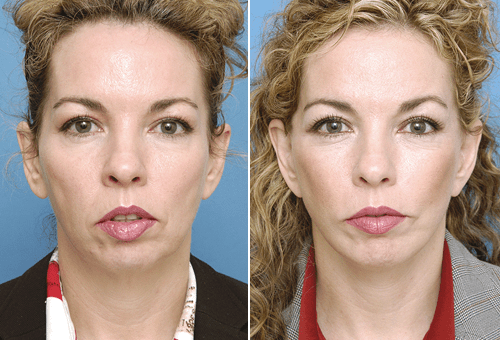 Fat Injections Gallery
As we age, many of us experience the formation of deep lines and wrinkles in the face and a loss of volume in facial features that can give us a hollow or sunken appearance in a number of areas including the lips and jaw-line folds between the cheeks and lips.
These very common aesthetic issues can be significantly improved with fat and stem cell injections, available from our plastic surgeon in Rhode Island. Read on for more details on this effective procedure, and please contact Dr. Patrick K. Sullivan to schedule a consultation.
Procedure Overview
Fat and adipose derived stem cells are harvested from one part of the body (usually through a tiny incision in the belly button) and are injected in areas of the face where fat has been lost over time. It can be used to fill in the deep lines between the nose and cheek (nasolabial folds), the corners of the mouth (where the mouth may have a down-turned or frowning appearance), and/or deep creases in the forehead. Fat and stem cells can be used to augment the cheeks, lips, jaw-line, chin and other areas of the face. Fat and stem cell injections can be particularity beneficial in areas where there has been facial deflation that comes with the passage of time and from a host of other reasons.
Fat and stem cell injections are done under intravenous sedation without general anesthesia on an outpatient basis. The areas may be swollen for several weeks after surgery and it will take a number of weeks to see the final outcome.
I cannot express how delighted I am with the results from my surgery. It has made such a wonderful impact in my life and gave me a new outlook that was long overdue. I commend Dr. Sullivan for performing such a superb job. He is the best. Not only am I impressed with Dr. Sullivan but I am especially pleased with his staff. You all have been so kind to me. It is a breath of fresh air to see happy and professional people in one place. I am forever grateful. I will never forget this pleasurable experience.
The Results
Dr. Patrick K. Sullivan can give you effective facial rejuvenation with results that bring out your natural beauty. With fat and stem cell injections, you can attain significant aesthetic enhancement in a variety of facial areas with results that are known to be long-lasting, as Dr. Sullivan has proven with his clinical research. He has followed hundreds of his patients over more than a ten year period and has proven that the transfer of fat maintains results for very long periods of time. Additionally, he has lectured to many of his peers about the latest techniques and the many benefits of utilizing fat and stem cell injections. Please contact us if you would like to learn more about this cutting-edge procedure and to schedule your private consultation with Dr. Sullivan.
Why Choose Dr. Sullivan?
Dr. Sullivan is an internationally renowned plastic surgeon known for his special ability to create natural enhanced results. You never have to worry about looking overdone, overfilled or surgical with Dr. Sullivan.  Patients from all over the world travel to him to benefit from the exclusive and artistic approach he takes for each person's face. He has been named one of the "Best Doctors in America" and has been recognized as being in the top 1% of plastic surgeons in America by US News & World Report. In addition to a long list of impressive awards and accolades and extensive education, Dr. Sullivan brings the eyes, touch, and care of a very skilled artist to each of his patients. He began painting and sculpting at a young age. These art forms start with careful individualized planning and carry into his operating room, where he has completed more than 10,000 cosmetic procedures with beautiful and naturally presenting outcomes for his patients.
Over his 25 years of cosmetic surgery work, Dr. Sullivan has developed his surgical techniques and his own specialized instruments to achieve the most naturally presenting and patient-centric results possible. Just as no two bodies are the same, and no two people seek the exact same outcome, no two procedures performed by Dr. Sullivan are identical. Each is tailored to accomplishing what the patient before him has as their own personal ideals.
Dr. Sullivan is Division Chief of Cosmetic Surgery and an Associate Professor of Plastic Surgery at Brown University and is a vastly credentialed veteran cosmetic surgeon.