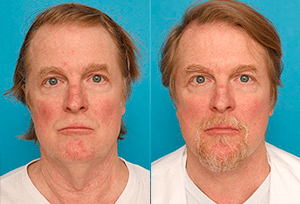 Male Facial Rejuvenation and Brow Lift Gallery
Brow lifting for men is remarkably common as the heavy forehead tissue may weigh down the eyelids and give a hooded upper eyelid. Bringing the brows into a normal position can be very helpful.
Forehead rejuvenation and brow lifting for men is not at all the same as forehead and brow lift for women. The artistic shape and position of the brows are very different in males as we, of course, do not want to have the brows too high. And we would not want to feminize the face of a male thus it is essential to treat males and females differently. Many of our male patients have expressed concerns about celebrities undergoing brow lifting procedures with results that do not look natural. As a facial rejuvenation specialist, Dr. Patrick Sullivan is keenly aware of these common concerns and is renowned for his natural results. Brow lifting in men does not have to result in the brows being positioned too high or looking abnormal.
Our male patients who have male pattern baldness can also be good candidates for a hairline incision as with this technique the brows could be lifted without further elevation of the forehead.
Words cannot express or begin to describe the utmost professionalism and perfection displayed by you and your staff. For the entire experience, from consultation and beyond, you made me feel confident and reassured about all aspects. I can see why you have such a great reputation and are one of the most respected doctors in your field. You have a gift, and I am fortunate to be a patient.
Your Consultation
If you are interested in discussing male facial rejuvenation procedures with our Rhode Island plastic surgeon, we invite you to contact our office to schedule your private consultation. Additional information about Dr. Sullivan's innovative approach to face lifting can be found on our female facial rejuvenation page.