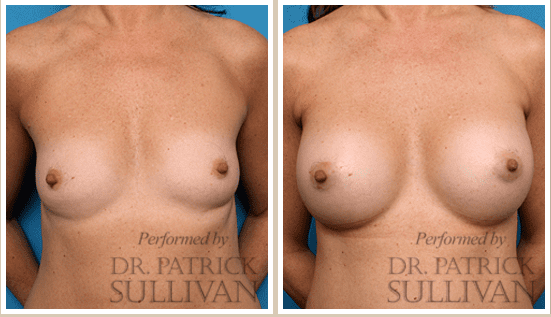 Breast Augmentation Gallery
Breast augmentation has proven to be a very helpful procedure for a large number of women in Dr. Patrick Sullivan's practice. The breast augmentation procedure can help bring the breasts into a more artistic shape that better matches the other features of the body and correct asymmetry. Breast augmentation can also enlarge the breasts. Patients who elect to undergo the breast augmentation procedure have many decisions to consider including the size and type of implant used, the location of the incision, the placement of the implant and whether combining their procedure with a breast lift is appropriate. While the information below is provided to help you better understand the breast augmentation procedure, there is no substitute for a consultation with an experienced board-certified plastic surgeon.
If you are considering breast enhancement surgery at our Rhode Island plastic surgery practice, we encourage you to contact our office to arrange your private consultation with our board certified plastic surgeon, Dr. Patrick Sullivan.
Your Consultation
Your initial consultation will be used to determine if you are a good candidate for breast augmentation. In addition to discussing your cosmetic goals, Dr. Sullivan will evaluate whether or not you have an adequate amount of soft tissue present in your breasts to cover and support the implants of your choice. Not only does this soft tissue coverage help to ensure the procedure can be performed more safely and effectively, it also helps produce more natural-looking outcomes after surgery. As a proponent of patient education, Dr. Sullivan will also provide detailed pre- and post-operative instructions during the consultation to minimize risks and better prepare you for what to expect throughout the entire breast augmentation process.
You will find that most of your questions about breast augmentation surgery will be answered during this consultation. If you are ready to take the next step towards a more enhanced you, we encourage you to contact our office to arrange your consultation appointment with Dr. Sullivan.
Breast Implants Types
Silicone gel-filled breast implants versus Saline-filled breast implants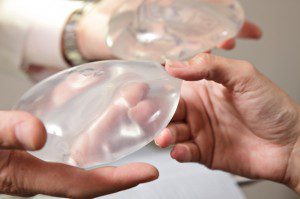 In addition to the wide range of implant shapes and sizes available, patients also have choices when it comes to the breast implant filler material. While all breast implants have an outer shell made of silicone, Dr. Sullivan offers implants that are filled with either saline (a saltwater solution), or silicone gel. Although the breast implant fill materials have drawn a great deal of attention by patients, either option offered at our practice is considered safe. Many patients have noted that the silicone gel implants used by Dr. Patrick Sullivan have a more natural texture and frequently appear more natural than saline implants. This is because the silicone gel implants are designed to have a certain thickness that is remarkably similar to natural breast tissue. A benefit of saline implants, however, is the ability to adjust the size of the implant after it has been surgically placed. Silicone gel implants on the other hand are pre-filled and cannot be adjusted. Dr. Sullivan and his staff have many years of experience working with both saline and silicone gel implants and will discuss the differences with you in detail during your consultation. To arrange your appointment, you can get in contact with our office by calling or completing the form to the right.
Selecting a Breast Implant Size
Breast implant selection is certainly a very important part of the decision-making process. Dr. Patrick Sullivan brings you into the process by trying to determine the size that you would like to be. Artistry is a key component in choosing the breast implant size and dimensions. Prior to your surgery with Dr. Sullivan, your breasts will be carefully measured. These measurements will be recorded and studied in an effort to determine the breast implant size and dimensions that most appropriate for you and your body type. Dr. Sullivan takes into account your specific anatomy in an effort to ensure you have adequate soft tissue coverage.
A range of breast implant sizes and dimensions are chosen in the pre-operative consultation by you and Dr. Patrick Sullivan. The final determination of the breast implant size may be determined in the operating room based on the appearance of your breasts after implant sizers have been placed. One cannot always determine pre-operatively the appearance size that is going to look the best in surgery; thus, Dr. Patrick Sullivan uses the sizers to determine what the silicone implant will look like after it has been placed. Patients will frequently suggest a certain cup size, but breast implants are not available in cup sizes like bras. Cup size can vary significantly between one bra manufacturer and another.
Implant Placement Options
Under Breast Implants/Placement Techniques:
Our preference is usually have your breast implants placed beneath the muscle and breast tissue. This provides additional soft tissue coverage over the implant and limits the visibility of the implant itself. This larger amount of soft tissue gives the breasts a gentler slope in the upper part of the breast area and also a smoother and more normal contour. Dr. Patrick Sullivan's specialty is in giving a more natural appearance with the breast augmentation surgery.
The doctors at our hospital performing mammography have told us that they can see the breast implant just as well when it is under the muscle as when there is no implant at all. Thus, we feel very comfortable with this for our patients as we do not want interference with mammography. Many surgeons feel the sub-muscular placement will decrease the chances of capsular contracture.
Incision Types
You will have a great deal of input on what type of incision you feel best fits your needs. During your consultation, Dr. Patrick Sullivan will explain to you the various types of incisions and the exposures they provide for your breast augmentation surgery. The various types of incisions used for breast lift procedures will also be discussed if applicable in your specific situation. Dr. Sullivan specifically likes to hide the incisions as much as possible in an effort to have the breasts appear natural and with the most limited amount of scar tissue.
The Procedure
The breast augmentation procedure is performed on an outpatient basis and Dr. Patrick Sullivan greatly prefers using intravenous sedation rather than general anesthesia. It takes a bit longer, but the emphasis is always on safety. With the intravenous sedation, our patients tell us that they don't hear, feel, or see anything. The plan is to avoid intubation, paralysis, or any time on a respirator.
Dr, Patrick Sullivan is a highly skilled surgeon and definitely the BEST in RI. I did a great deal of research before selecting a surgeon. He was the most professional, knowledgeable doctor who offered many suggestions for accomplishing my goals. His staff made me feel that I was their main priority and I always felt that they were just a phone call away. It has been 6 months since my procedure and I am extremely happy with the results ( so far ). Having plastic surgery was the best decision that I ever made and selecting Dr. Sullivan was the key. I would encourage anyone to meet with him if you are contemplating having cosmetic surgery.
Recovery
Dr. Patrick Sullivan feels that you should take at least several days out of work after your surgery. Those people who have greater physical activity requirements for their job may need to take additional time. Dr. Sullivan recommends that you use your arms starting the night of surgery but only have light activity for the first week. It is very important to limit lifting of heavy objects. Dr. Sullivan will follow you along and tell you when he feels it is appropriate for you to return to exercise.
In two to three weeks, most patients are able to increase their activity involving light cardio exercises. Based on how this is tolerated, additional activity is increased specifically in you and your situation. Our patients frequently tell us that after all of their healing they become unaware of the implants and they tell us that they feel no permanent restrictions.
Your Result
We have found that breast augmentation has a high satisfaction rate for our patients. An overwhelming majority of our patients are satisfied with their breast augmentation surgery. There are risks, however, and we review these risks with you before your surgery to make sure you understand all the possibilities. The goal, of course, is that you are very happy with your surgical result, as well as pleased with the way that you were cared for by everyone on our team.
Dr. Sullivan's work is simply amazing. As a person has a calm, confident demeanor. He takes his time to explain and is willing to answer any question. His staff is warm and professional. I was so pleased with my result and would highly recommend him. His work is the perfect combination of art and medical science
View All
Dr. Sullivan is an EXPERT! He is the best at what he does. I've always been on the small side but after children I became very unhappy with my size. I knew I wanted breast augmentation. I found Dr. Sullivan on google and decided to schedule a consult and my experience from that point on was EXTREMELY POSITIVE!!!!! Dr. Sullivan is very knowledgeable, meticulous, and a great listener. The entire staff was helpful and friendly. I'm 100% satisfied with my results. I HIGHLY recommend Dr. Sullivan to anyone who's considering any type of plastic surgery.
View All
There isn't enough words to describe how GREAT Dr.Sullivan is!! The day I went to see him about getting breast augmentation, I had an appointment with another doctor as well. As soon as I stared talking with Dr. Sullivan I knew I didn't need to go anywhere else, so I called to cancel the other place. He is simply the best. My results were incredible and his team was so professional from beginning to ending. I would do this all over again in a heart beat. If you're looking to get anything done, please take time and go see him first- you will not be disappointed!
View All