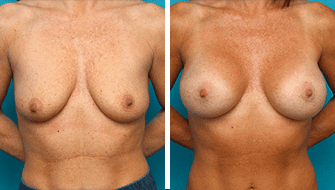 Breast Augmentation With Lift
Sagginess in the breasts is a very common condition, and also a very treatable one. The breast augmentation is frequently combined with lifting in patients who would like to have a more uplifted appearance to their breasts. For those people who are concerned about their breasts sagging or drooping with time, a lifting procedure can be especially helpful. The laxity of the breasts may come with the passage of time, weight loss, pregnancy, and breastfeeding. Our goal is to provide our patients with a beautiful and natural-appearing result through both the combination and lifting. The combined procedure can give patients more youthful-appearing breasts that are also enlarged to a size that is artistically more appropriate.
If you are interested in exploring your candidacy for a breast lift with implants, we invite you to schedule a consultation for breast lift surgery with Dr. Patrick K. Sullivan. You may also view results from actual breast lift patients in our breast enhancement gallery.
Your Consultation
Dr. Sullivan sees his patients several times before surgery in order to educate them about breast augmentation, breast lifting, and correction of asymmetries. In addition to listening about his patients' concerns, desires, and goals, Dr. Sullivan also performs a medical examination and carefully measures the breasts, including the asymmetries. The alternatives in relation to the incisions are also discussed. The surgical procedure itself is thoroughly discussed. Dr. Sullivan will be showing you a number of before-and-after pictures of breasts to help you determine appropriate expectations for what can be done for you. He will also demonstrate some of the changes in a mirror that can take place especially through the lifting procedures. Dr. Sullivan will also review the various implant types and the range of sizes that are possible in your particular situation. The goal always will be emphasizing a beautiful, artistic appearance balanced with a high priority on safety.
The Procedure
Breast lifting (mastopexy) is often combined with breast implants for patients who would like more volume as well as a "perky" appearance. Breast lift surgery can also be performed to reduce a large areola (the dark-pigmented region around the nipple) and reposition the areola if necessary. The breast lift procedure is typically performed under intravenous sedation on an outpatient basis. The recovery is generally 1 to 3 weeks depending on the amount of lifting that is required. During breast lift surgery, Dr. Sullivan will make incisions along the breast in order to remove the excess tissue. The design of the incisions can vary but may include incisions around the nipple-areolar complex, in the crease under the breast, or from the nipple-areolar complex to the crease under the breast. Dr. Sullivan will make every effort to create incisions as small and as inconspicuous as possible. We also have special methods to decrease scar tissue and widening of the scars. After the excess skin has been removed, Dr. Sullivan will tighten the remaining skin and move the nipples to a higher position, thereby giving the breasts a smoother, more youthful aesthetic.
Dr. Sullivan is a class act! Dr. Sullivan and his staff provide top notch service from the consultation to the surgery, and post operation treatment and guidance. Not only is he brilliant with his work and the results, he has fantastic bedside manner with the highest degree of professionalism. I would highly recommend him to anyone! I plan to use him again for upcoming needs!
View All
I had a Breast Lift with Augmentation done 3 weeks ago. I did a lot of research and decided to book a consult with Dr Sullivan. I knew from the moment I met him that he was the Dr for me. Very sweet and kind and staff are amazing as well. I am so pleased with my results. He gave me exactly what I was looking for. The recovery was great not once was I ever in pain. I could not believe how smoothly it went. I just wish I would of done this sooner. Dr Sullivan and his team are the BEST!!!!!!!!!!!!!!!"
View All