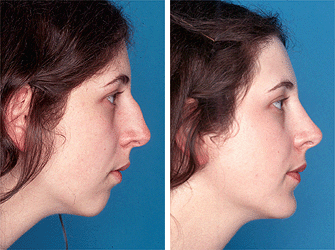 Rhinoplasty (Nose Reshaping) Gallery
Our specialty is artistically reshaping the nose to match the other positive features of the face. Rhode Island plastic surgeon Patrick K. Sullivan, MD uses the term Rhinoplasty or Artistic Nasal surgery to describe how he contours a nose that is unattractive or is not in proportion with other facial features. Our practice is known for our patients having a very natural appearance rather than looking like they had a "nose job." The surgery can help to correct an imperfect appearance of the nose as a result of birth defects, injury or disease. Nasal humps can be fixed. Crooked noses can be straightened. Large noses can be made smaller.
The Procedure
The procedure is done on an outpatient basis using either intravenous sedation or occasionally, general anesthesia. Depending on the reasons for your nose surgery, your unique anatomy and your ultimate goals, rhinoplasty usually takes about 2 to 3 ½ hours to complete. Dr. Sullivan will reshape some of the nasal cartilage and bone according to the desired outcome, and apply a temporary splint for the nose to retain its new shape during recovery. The splint is in place for about 6 days. People often go back to work or school with the splint in place. Since incisions for rhinoplasty are often made within the nostrils or close to where the nose meets the face, any scarring from the procedure will be virtually invisible. Most of the noticeable swelling and bruising has resolved in 1 to 2 weeks so much so that most people have returned to work by one week. The result is evident in 4 to 6 weeks, or sooner, with continued improvement for several months.
"I cannot express how happy I am with the results of my surgery. You are truly an artist in your own right. The reshaping of my nose is perfect! I couldn't be more pleased. As it heals, it continues to look better and better each day."
Name omitted for patient privacy
Experience
Regarded as an authority on facial plastic surgery procedures by his peers, Dr. Sullivan has been been invited to present his patient results and surgical techniques to national and international plastic surgery meetings. His unique approach to nasal reshaping has also been published in plastic surgery journals. Although an innovator in plastic surgery, Dr. Sullivan's primary focus is in caring for his patients and trying to give them the very best result they could get anywhere in the world.
What it's like to have Rhinoplasty?
It was great! Everybody was fabulous from the time I came for the first consultation all the way until I was at the operating room. The anesthesia people were great at the hospital, and Dr. Sullivan came in and drew a map of China all over my face – oh, yeah, it was great. I walked myself right down to the OR and jumped on the table and the next thing I knew I was waking up.
View a patient's perspective on facial surgery
To schedule a private consultation with Dr. Sullivan to discuss rhinoplasty (nose reshaping surgery), please contact our office here in the Providence, Rhode Island area.
I got work done by Dr. Patrick Sullivan approximately one year ago and it was one of the best decisions of my life! Not only is Dr. Sullivan extremely knowledgeable and caring but his staff is as well. I would highly recommend going to Dr. Sullivan if you ever plan on getting any work done. I would absolutely get this procedure done again as long as Dr. Sullivan and his amazing staff are there to do it. Great people and a great experience all around!!"
View All
Getting surgery done by Dr. Sullivan was one of the best decisions of my life. Dr. Sullivan along with his staff are incredibly caring and knowledgeable experts. They truly care about your experince and make you comfortable every step of the way. If you are ever looking to get work done such as rhinoplasty I highly recommend going to Dr. Patrick Sullivan. I love the result I got and would absolutely do it again thanks to Dr. Sullivan and his amazing staff.
View All