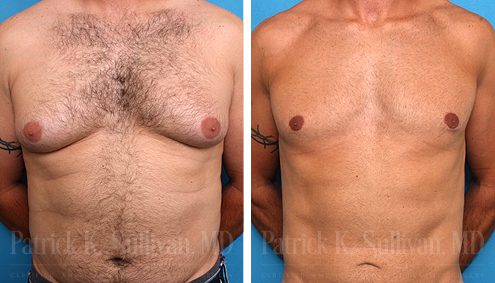 Male Liposuction Gallery
You eat well and exercise, yet you still have "love handles" or stubborn fat around your abdomen or in the breast / chest area. This is an all-too-common complaint we hear from men and, for more and more, each year, the answer has become liposuction.
Liposuction removes the unwanted fat and allows for the re-contouring of the body. As such, it involves more than just understanding the procedure; it involves artistry, in terms of:
Knowing how much fat to extract as over extraction can lead to problems that are very difficult and sometimes impossible to correct.

Smooth results are also very important so the areas do not have visible irregularities and an operated appearance.

Blending the areas of the liposuction with the surrounding areas, for a natural enhanced shape and contour.
Good Candidates for Male Liposuction
As with virtually any plastic surgery option, a good candidate is someone who:
Has a healthy lifestyle.

Does not smoke.

Has no medical condition that could impede healing.

A positive outlook and realistic expectations.
There are two other conditions to consider:
It is optimal to be within 30% of your ideal weight, with generally good skin tone and elasticity. That is because skin tone and elasticity are not addressed with liposuction. If your skin is sagging, liposuction can, however, be combined with other procedures to remove the excess skin.

It is not appropriate for reducing a "beer belly," since this is usually caused by internal changes and is not just a matter of removing unwanted fat. Certain cases of an overlarge abdomen may require a surgical repair of the abdominal muscle fascia, rather than liposuction alone.
Will the results of liposuction last?
The answer, in terms of fat removal, is "yes." The answer, in terms of appearance, is "it depends." To maintain your results, you will need to eat healthy and exercise, so you don't gain a significant amount of weight in the future.
The "Life" of Fat Cells in Adults
The body has a stable number of fat cells. Without them being surgically removed, this number does not change. What does change is their size. They grow or shrink as weight is gained or lost.
If you gain weight after liposuction, you have fewer fat cells in the treated zone. If you lose weight after liposuction, the area that had the procedure will improve even more.
The best thing to do is try to remain at a stable weight afterwards or depending on your goals some patients would like to loose additonal weight.  A number of our patients have reported that losing weight is easier after liposuction. It is not, however, intended as a method of weight loss.
The Procedure for Male Liposuction
Liposuction is an outpatient procedure in almost all cases. Anesthesia may be local or general, or your surgeon may use intravenous sedation. The actual liposuction (suctioning out of fat cells) is done through tiny incisions.
To begin with, diluted anesthesia is inserted in the incisions. This helps minimize bruising, bleeding and trauma. Then a thin tube, called a "cannula," is inserted through the incisions. It is carefully moved back and forth, loosening the excess fat, which is then suctioned out of body.
Recovery and Results from Male Liposuction
Your surgeon will, of course give you detailed recovery instructions. However, to control swelling and maintain contours, you will wear a compression garment or elastic bandages in the early stages of healing. For small areas done under local anesthetic you may be able to return to work immediately. For larger areas, one to three days' rest is recommended but it all depends on the kind of work you do.