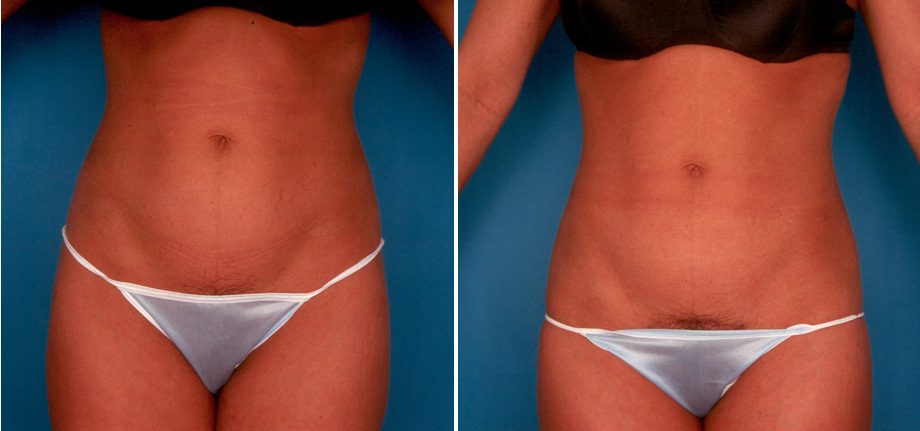 Abdominoplasty/Tummy Tuck Gallery
Sometimes dieting and exercise alone cannot bring back your desired shape. This is particularly true for women who have gone through pregnancy. The pregnancy itself can bring about changes in a number of ways, often times most notably in the waistline. Prior to pregnancy, there may have been a beautiful hourglass shape that has now changed to a more square-like shape. This also may be accompanied by extra skin and stretch marks following both the distention and/or weight loss that distorts the abdomen and umbilicus. The skin can often times have a loose appearance, which you may find unattractive. There also may be a lower abdominal "bulge" after pregnancy that is very different from the shape before pregnancy. Some patients tell us that people ask them if they are pregnant when they are not. This can, of course, be very disconcerting. Even abdominal crunches, dieting, and an extraordinary exercise regimen cannot repair the stretched fascia and supportive structures of the abdomen.
If you would like to discuss your candidacy for the abdominoplasty or tummy tuck procedure with our Rhode Island plastic surgeon, Dr. Patrick K. Sullivan, the first step is scheduling a consultation. This can be arranged with our office by calling 401-831-8300 or completing the contact form on the right of this page.
After my visit today and seeing the still very early results of my surgery, I couldn't be more happy! Despite some bruising and swelling my stomach and new belly button look fabulous!
Introduction to Abdominoplasty
A tummy tuck (abdominoplasty) is an operation that involves three major steps:
Tightening of the abdominal fascia and providing more support to that region. Laxity may be present as part of pregnancy or the natural laxity that comes with the passage of time.
Removal of excessive skin. This may be the result of pregnancy, weight loss, or the aging process. No matter the cause, a tummy tuck can help address this.
Removal of excessive fatty deposits. Sometimes this is not necessary on very slender patients, but even patients who are back at their ideal weight may have areas where they have collected fat through pregnancy, inherited features, or weight changes.
What Does an Abdominoplasty Do?
An abdominoplasty usually brings about a body that is in much better proportion with a slimmer appearance and a more defined waistline. Patients tell us that they are better able to fit into clothes (especially swimwear). We perform abdominoplasties on patients of all sizes, shapes, and ages. Safety is our primary concern thus patients are asked to have a physical evaluation by their internal medicine doctor. We work with your doctor to make certain that we can decrease surgery risks as much as possible.
The Procedure
The abdominoplasty (tummy tuck) procedure is generally performed in our private operating room. We have a superb licensed and accredited facility. The abdominoplasty procedure takes several hours but varies depending on the complexity. We take our time because we want to ensure that the procedure is done very safely with an emphasis on a high quality result. Dr. Sullivan will generally use local anesthesia with intravenous sedation in order to accomplish the tummy tuck procedure without general anesthesia. Our M.D. anesthesiologists are superb and with us have published scientific papers about the success and safety of this technique. We are able avoid general anesthesia in over 90% of our patients. Our patients also tell us they are comfortable and cannot feel anything. We believe this approach works well with our emphasis on safety and a speedy recovery. The patient then has the procedure performed with or without liposuction (or other additional procedures) based on their desires. We plan for each patient's treatment based on their specific needs. Almost all of our patients have a tightening of the tummy, fascia, musculature, and removal of excessive skin. Some patients have fatty tissue removed at the same time.
Incisions
Our incisions are placed in an effort to hide the scars as much as we can. Some patients are able to have an "umbilical float" procedure where the belly button is moved down to a lower position and thus avoid the scar from changing the position of the belly button. We also try to have the access incisions be very low, so that they are below the panty line and/or swimwear.
Recovery
Our tummy tuck patients typically stay overnight at our recovery center in the care of a private duty nurse. Patients are usually discharged the next morning. Because we use intravenous sedation rather than general anesthesia, our patients tend to recover very quickly. Patients have anesthetic blocks in order to keep them comfortable and they usually rate their discomfort as moderate. We emphasize movement and ambulation very early after your procedure. We begin the exercise process the evening of surgery. We will also guide you in dieting and exercise in the weeks following your surgery. A patient should expect to return to their full exercise routine after four to six weeks. Patients generally plan to return to work two weeks after their procedure. We will guide you on this based on the extensiveness of your procedure. Driving is based on patients' comfort level, as we want to ensure that our patients are able to respond normally while driving.
Contact Us
Dr. Patrick Sullivan is an experienced board certified plastic surgeon known for his artistic ability in body contouring and facial plastic surgery procedures. Contact our office today to arrange your consultation and and see why our Rhode Island tummy tuck patients are so satisfied with their results.
Dr, Patrick Sullivan is a highly skilled surgeon and definitely the BEST in RI. I did a great deal of research before selecting a surgeon. He was the most professional, knowledgeable doctor who offered many suggestions for accomplishing my goals. His staff made me feel that I was their main priority and I always felt that they were just a phone call away. It has been 6 months since my procedure and I am extremely happy with the results ( so far ). Having plastic surgery was the best decision that I ever made and selecting Dr. Sullivan was the key. I would encourage anyone to meet with him if you are contemplating having cosmetic surgery.
View All
Dr. Sullivan and his team are beyond fabulous! I highly recommend Dr.Sullivan, his expertise in Plastic Surgery are unmatched in RI. I would not trust anyone else with my body but Dr.Sullivan. From the moment you walk into his office to the operating table, Dr. Sullivan's focus is always on perfecting whatever procedure you're getting done. My results are perfect !!! Thank you!-
View All