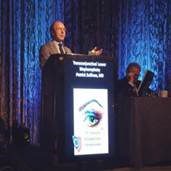 We are always looking for ways to give the best treatment and care for those who choose us – 2016 was no exception. I was invited to give presentations and be a panelist at a number of plastic surgery conferences.  While I am so honored to receive each one of these invites, I only accept a few as my primary goal is to care for my patients and be there for them.  I did participate in the following meetings.  2016: American Society of Plastic Surgeons annual meeting in Los Angeles as I was asked to put together the afternoon session on face and neck rejuvenation.  We presented both surgical and new non-surgical options.  It was very well received by a packed crowd at the LA Convention Center.   The Cosmetic Boot Camp in Aspen, Colorado was an exciting interdisciplinary meeting where I was asked to discuss new methods of facial rejuvenation.  This led to a New York Times article on the subject.  The American Society of Aesthetic Plastic Surgeons in Las Vegas was particularly busy with multiple presentations to plastic surgeons, nurses and skin care specialists.  I was truly honored to be invited to speak at these events, teach about artistry in plastic surgery and demonstrate how to achieve very natural, beautiful results.
2016 was also full of wonderful charity events and time spent giving back to our community and also internationally.  We started the year in South Africa, where I was honored to share plastic surgery techniques with surgeons from the Red Cross Children's Hospital and the University of Cape Town.  We were also very excited to support the great work being done in Rhode Island: Hasbro Children's Hospital and their Nerf Ball as well as Martinis for Melanoma.  We are also enthusiastic contributors to Year Up and their amazing work with young people from the inner city helping launch them in careers. We also encourage everyone to consider supporting the Center for Resilience.  They have proven to be so effective through their techniques of teaching children ways to interact and excel.
My team and I are looking forward to another exciting year and all that 2017 has to offer!