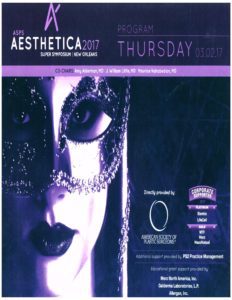 The American Society of Plastic Surgeons (ASPS) held the Aesthetica Super Symposium March 2-4.  I was invited to present 5 talks focusing on the most advanced treatments for face lifting and facial rejuvenation procedures.  These talks included exciting discussions about fat injections, facial contouring, stem cells and how its research has been helpful in the treatment of our patients.  I was also asked to moderate 2 panel discussions that involved experts presenting their latest research and findings on improving patient care.  Here we were in wonderful New Orleans and our days were so busy I didn't leave the hotel for the 2 and a half days of the meeting.
The meeting was not only filled with interesting talks, but interactive events as well.  One such event was the "Tips and Tricks" forum on Friday afternoon.  Faculty members were given the opportunity to share some of our special treatments that have made big differences in our patients' results.  I shared how to achieve the best results in the eyelid and facial areas using special contouring methods that include fat injections with the person's own fat.
A unique event organized by the ASPS leadership was the "Aesthetica Bowl".  Certain faculty members were chosen, separated into two teams and asked to participate in a challenge – ours was a team of 4 plastic surgeons.  We were then presented with pictures of patients to manage– then develop an individualized treatment plan and present it to the audience.  They would then vote on the best plan and they would determine the winner.  I am honored and proud to say that our team was awarded the Aesthetica Bowl trophy on Friday afternoon.
It really was a terrific meeting and I enjoyed having the opportunity to spend time with so many other truly talented plastic surgeons and share our ideas and new treatments. ASPS is an amazing organization providing such superb educational opportunities for plastic surgeons around the world and I am truly honored to be a part of what they continue to do.