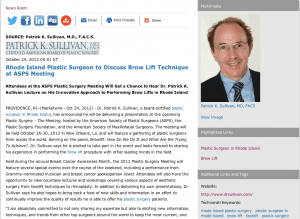 Attendees at the ASPS Plastic Surgery Meeting will get a chance to hear Dr. Patrick K. Sullivan lecture on his innovative approach to performing brow lifts in Rhode Island.
Providence, RI — Dr. Patrick K. Sullivan, a board-certified plastic surgeon in Rhode Island, has announced he will be delivering a presentation at the upcoming Plastic Surgery – The Meeting, hosted by the American Society of Plastic Surgeons (ASPS), the Plastic Surgery Foundation, and the American Society of Maxillofacial Surgeons. The meeting will be held October 26-30, 2012 in New Orleans, La. and will feature a gathering of plastic surgeons from across the world. Serving on the panel, Browlift: How Do We Do It and What Are We Trying To Achieve?, Dr. Sullivan says he is excited to take part in the event and looks forward to sharing his experience in performing the brow lift procedure with other leading minds in the field.
Held during the annual Breast Cancer Awareness Month, the 2012 Plastic Surgery Meeting will feature several special events over the course of the weekend, including a performance from Grammy-nominated musician and breast cancer spokesperson Jewel. Attendees will also have the opportunity to view countless lectures and workshops covering various aspects of aesthetic surgery from facelift techniques to rhinoplasty. In addition to delivering his own presentations, Dr. Sullivan says he also hopes to bring back a host of new skills and information in an effort to continually improve the quality of results he is able to offer his plastic surgery patients.
"I am absolutely committed to not only sharing my expertise but also to eliciting new information, techniques, and trends from other top surgeons around the world to keep the most current, and effective, treatments at the forefront of our practice," says Dr. Sullivan. "Perfecting the art and science of cosmetic plastic surgery is our goal. We are always trying to bring back the latest ideas and successful, proven treatments to our patients."
During his panel on browlifting, Dr. Sullivan says he hopes to share his unique approach to performing the procedure, in which he tries to achieve an artistically enhance appearance by taking away the "tired look" from their eyes without causing the patient to look "done-up." Various points of his presentation include:
Use of BOTOX® and Dysport® to complement a surgical procedure
Fat injections and non-surgical treatments and their support of the rejuvenation process
Long-term follow up results and how to keep patients looking fresh over the years
Dr. Sullivan's experience with over 500 brow lift patients
As he prepares for the upcoming lecture, Dr. Sullivan says is eager to take part in such a large gathering of distinguished leaders in cosmetic surgery. Regardless of whether he is discussing the brow lift, facelift, or some other aesthetic procedure, he says actively educating others has always been a top priority at his practice, and one he hopes to pursue throughout the entirety of his career.
"It is imperative that we update and teach other plastic surgeons about the advances we have made in brow lifting and forehead rejuvenation," he says. "Our special expertise is in giving patients a natural well rested appearance rather than the surprised or startled appearance that so many patients associate with brow lifting."
About Patrick K. Sullivan, MD, FACS
U.S. News & World Report has recognized Dr. Patrick Sullivan as being one of the top 1% of Plastic Surgeons in the United States (as cited by Castle Connolly). A graduate of the Mayo Medical School in Minnesota, Dr. Sullivan completed residency programs at the University of Colorado and Brown University. He is double board-certified by the American Board of Plastic Surgery and the American Board of Otolaryngology-Head and Neck Surgery, as well as a Fellow of the American College of Surgeons. Dr. Sullivan serves as a faculty member at Brown University's School of Medicine and is a member of the American Society of Plastic Surgeons, the American Society for Aesthetic Plastic Surgery, and several other professional organizations. He has been named in Woodward and White's "Best Doctors in America" as one of the "Top Plastic Surgeons," in addition to being selected to Castle Connolly's Guide to "America's Top Doctors."
Located at 235 Plain Street Suite 502 in Providence, RI 02905, Dr. Sullivan's practice can be reached at (877) 435-3223. The practice can also be contacted online via the websites drsullivan.com or facebook.com/doctorsullivan.