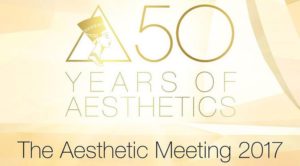 Dr. Pat Sullivan, MD has been invited to give multiple presentations this weekend as The American Society for Aesthetic Plastic Surgery is celebrating 50 years of Aesthetics this year.  They are holding The Aesthetic Meeting 2017 in San Diego CA.
Opening day for this year's meeting is Saturday and I have been asked to participate in a point/counterpoint discussion moderated by Dr. Sherrell Aston of New York.  The topic is Periorbital Rejuvenation:  My points will come from my experience with special treatments for rejuvenation of the lower eyelids and lid cheek junction (circles under the eyes).  My approach to upper face and eyelids is to always emphasize how to get natural results.  I am extremely excited to help kick start what promises to be a great meeting!  I am also looking forward to participating in this discussion as the treatments I will discuss have been particularly successful for my patients. I want to share the details and follow up results with my peers!
This year, I was also invited as a member of faculty thus,  have been asked to host some exciting Educational Seminars.  The first seminar is titled "Advanced Techniques for Rejuvenation of the Neck and Lower Face" and the second is "Aesthetic Eyelid and Forehead Surgery that Focuses on a Natural Result for the Patient".  Both are topics I have had the pleasure of addressing at ASPS Aesthetica earlier this year and I look forward to expanding upon these topics at this meeting.
I truly enjoy taking part in these annual meetings as we are also given the opportunity to learn what other surgeons across the country are doing to better serve their patients and offer the very best results.