In our last blog post, we wrote that Dr. Sullivan often feels a comprehensive approach to facial rejuvenation is in the patient's best interest. As promised, we have elaborated on each of the three benefits below.
Artistic Balance
Through years of experience, Dr. Sullivan has found a comprehensive approach generally yields the best facial rejuvenation results. The tissues of the face are all intertwined; therefore, by addressing one specific area it will undoubtedly affect another. A contrast may also be created, much like the patient from our previous blog post experienced between the rejuvenated upper and non-rejuvenated lower regions of the face. By addressing all areas of concern at once, everything on the face artistically matches, which leads to the most natural-looking results.
Cost Efficiency
Addressing one area of the face and then later realizing another area needs attention is more costly. Since anesthesiologists and operating rooms charge by the minute, patients who receive two (or more) separate surgeries to address their concerns are going pay more than patients who only make one trip to the operating room for an inclusive surgery that comprehensively addresses their concerns. If Dr. Sullivan can efficiently move from one part of the prepared face to another part then the patient will save on all those minutes in the preparation of separate surgeries. Thus, this results in big savings for the patient.
One Recovery
We find that when patients do their rejuvenation piecemeal, they tend to be very happy with the first area but notice another area that now stands out.  This often results in them returning and having a second surgery. When this is the case, patients have to go through two separate recovery periods.  However, if they had chosen a more comprehensive approach they would only have one recovery period. Most patients lead very busy lives, therefore one stint of downtime versus two is often the more practical option.
In the end, Dr. Sullivan employs the surgical plan the patient desires, be it a solitary procedure or a combination of many. He has the utmost respect for how inclusive patients want their rejuvenation to be.  As Dr. Sullivan has stated, "the ultimate point is to make the patient happy".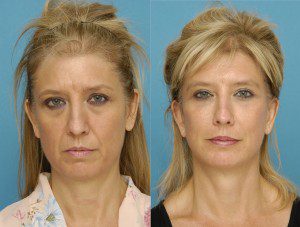 Contact Our Office
If you are interested in facial rejuvenation and wish to schedule a consultation with Dr. Sullivan, please don't hesitate to contact our office today.