Cold winter weather can wreak havoc on your complexion. Although there are many reasons a person may develop dry or splotchy skin, during the winter months the most common cause of dry skin is due to the low humidity in the air. In addition to low humidity, during the winter months your skin is also affected by frequent changes from cold to warm, which has an additional drying effect. One of the most effective methods to counteract the influence of winter weather on your complexion is to ensure you are drinking plenty of water each day.   According to the American Skin Association, "water is the most important nutrient we consume" and it is recommended that each adult consume at least 8 glasses (64 oz.) of water a day.
In addition to consuming your recommended daily dose of water, Dr. Sullivan's team also recommends applying a high tech daily moisturizer to your skin, such as Teoxane's RHA Serum, in order to help the skin retain hydration. For those wishing to address the appearance of fine lines and wrinkles, maintaining proper hydration is essential; however, we also offer more advanced injectable techniques as well. Our certified aesthetic nurse injector, Maureen, has over fifteen years' experience working with such injectables as Botox, Juvederm, and now Voluma and many more. To schedule your injectable consultation, or to discuss skin care options, please do not hesitate to contact us.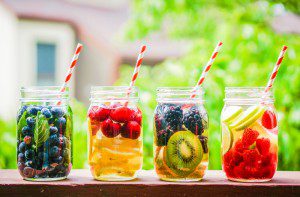 Here at Dr. Sullivan's office we recognize that drinking the proper amount of water each day may be a challenge for many people. Below are some of our team's insider tips for getting your daily allowance of water without making it feel like a chore.
Add Fresh Fruit: If you are looking for a way to flavor your water without extra calories or sweetener we recommend adding fresh sliced fruit or citrus peels. Jenny, our patient coordinator, enjoys adding fresh cut orange slices to her water. For an added detoxification effect, she also recommends adding fresh strawberries and lemon.
Drink Herbal Tea: In addition to adding flavor to your daily water intake, herbal tea can also provide added health benefits derived from the herbs infused into the tea. For example, during the winter flu season, Maureen, our nurse injector, enjoys drinking Echinacea tea flavored with orange peel. Echinacea has the added health benefits of boosting your immune system as well as reducing the risk of cancer.
Detoxify While You Hydrate: Whether you are trying to boost your overall health or feeling the need to cleanse after overindulging during the holidays adding a mixture of fresh lemon, mint, cucumber and ginger to your daily water will help to flush out toxins from your system. Lemons help to cleanse and alkalize the body; fresh mint adds a touch of sweetness without the need for sugar; cucumber is known for its rehydration properties and is also acts as an anti-inflammatory; and ginger is renowned for its cleansing properties as well as its ability to rebalance your digestive system. Jillian, our administrative coordinator, recommends performing this rehydrating cleanse seasonally to rebalance and restore a healthy glow to your complexion.