A patient who had previously received cosmetic treatment on only her lower face and neck once came into our office saying, "I feel like I have a new skirt but I'm wearing an old blouse." The problem wasn't that the upper portion of her face looked any worse; instead, the issue was how the upper region of her face now contrasted against her beautifully rejuvenated lower face and neck.
This patient's depiction of the way she felt is an excellent analogy for how addressing one particular area of the face can affect the entire aesthetic balance of the face. At our practice, Dr. Sullivan listens carefully to each patient's unique cosmetic goals in order to fully understand their specific concerns.  After meeting with each patient, Dr. Sullivan then provides patients with a number of treatment options. While he ultimately wants to perform the procedure or combination of procedures the patient chooses, his highest recommendation often involves a comprehensive approach to facial rejuvenation, where everything artistically matches.
With a comprehensive approach to facial rejuvenation, Dr. Sullivan can address multiple areas of concern (i.e. the neck, jowls, cheeks, eyelid region, etc.) all at once.  This can be particularly beneficial for the patient in three distinct ways: cosmetically, financially, and pragmatically. For an elaboration on these three benefits, be sure to stay tuned for our next blog post in which we'll detail each of these benefits specifically.
The below patient before and after photos provide an example of Dr. Sullivan's comprehensive approach to facial rejuvenation.  After discussing with the patient her goals and concerns, Dr. Sullivan designed a treatment plan that included endoscopic upper facial rejuvenation with a temporal and brow lift, eyelid blepharoplasty, with the lower eyelid blepharoplasty performed via an internal approach (i.e., no external scars), and lower face and neck lifting. Fat injections were also placed in the deep creases of her face and lips.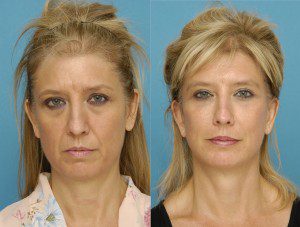 For more examples of Dr. Sullivan's facial rejuvenation results please see our patient photo gallery.
Contact Our Office
If you have any questions about facial rejuvenation surgery, or if you would like to schedule a consultation with Dr. Sullivan, please feel free to contact us today.