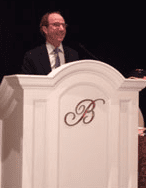 If you read my last blog post, "Dr. Sullivan to Teach Two Courses at The Aesthetic Meeting 2014," you may recall the upcoming courses I plan to teach both center around facial rejuvenation and techniques for achieving natural-looking results. Back in January, I was also invited to lecture at the ASAPS Las Vegas 2014 Aesthetic Symposium. At that conference, my colleagues and I presented, and then discussed in panels, how fat grafting and the stem cells associated with these fat injections has revolutionized facial rejuvenation surgery.
So how do my previous and upcoming lectures relate to one another? One of the most effective ways to achieve natural-looking results for facial rejuvenation is through fat injections. As I mentioned in my last post, facial surgery is not just about "lifting." Instead, it's more of a sculpting type of procedure, and fat injections provide an excellent solution for filling areas of depression and volume loss on the face.
We now have very safe, sophisticated, and proven treatment methods for carefully removing fatty deposits from areas of the face (especially the jowls), neck (including double chins) and puffy eyelids. We can also bring fat into an area where there has been a loss of fat through deflation or an area that just would benefit from added contour. This helps to provide beautiful, natural-looking results for patients concerned with aging, as well as those who have various kinds of facial deformities and/or asymmetries. For instance, in adults experiencing the effects of aging, we can now take advantage of fat grafting and injections to fill areas that have lost volume and are deflated, including those around the eyes, the jawline, the chin region, the lips, and the deep folds and wrinkles in the skin. For patients (particularly adolescents and young adults) who have a facial deformity – whether one side of their face is noticeably different than the other side, or their lower face is disproportionately small in relation to their cheeks – we can fill out the lower face or whatever area necessary to achieve a more symmetrical, proportionate look.
In the end, achieving the most natural-looking results possible comes down to taking all the information we've learned about facial surgery over the years, and combining that knowledge with the utilization of the most advanced and effective techniques available.
– Patrick K. Sullivan, MD, FACS
Contact Our Office
For more information about fat injections, or to schedule a consultation with Dr. Sullivan, please contact our office today.