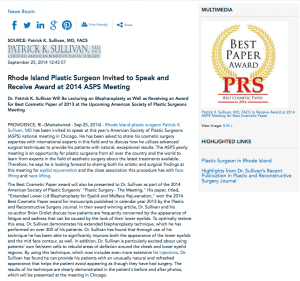 Dr. Patrick K. Sullivan will be lecturing on blepharoplasty as well as receiving an award for Best Cosmetic Paper of 2013 at the upcoming American Society of Plastic Surgeons meeting.
Providence, RI — Rhode Island plastic surgeon Patrick K. Sullivan, MD has been invited to speak at this year's American Society of Plastic Surgeons (ASPS) national meeting in Chicago. He has been asked to share his cosmetic surgery expertise with international experts in this field and to discuss how he utilizes advanced surgical techniques to provide his patients with natural, exceptional results. The ASPS yearly meeting is an opportunity for plastic surgeons from all over the country and the world to learn from experts in the field of aesthetic surgery about the latest treatments available. Therefore, he says he is looking forward to sharing both his artistic and surgical findings at this meeting for eyelid rejuvenation and the close association this procedure has with face lifting and neck lifting.
The Best Cosmetic Paper award will also be presented to Dr. Sullivan as part of the 2014 American Society of Plastic Surgeons' "Plastic Surgery – The Meeting." His paper, entitled, "Extended Lower Lid Blepharoplasty for Eyelid and Midface Rejuvenation," won the 2014 Best Cosmetic Paperaward for manuscripts published in calendar year 2013 by the Plastic and Reconstructive Surgery Journal. In their award winning article, Dr. Sullivan and his co-author Brian Drolet discuss how patients are frequently concerned by the appearance of fatigue and sadness that can be caused by the look of their lower eyelids. To optimally restore this area, Dr. Sullivan demonstrates his extended blepharoplasty technique, which he has performed on over 300 of his patients. Dr. Sullivan has found that through use of his technique he has been able to significantly improve both the appearance of the lower eyelids and the mid face contour, as well. In addition, Dr. Sullivan is particularly excited about using patients' own fat/stem cells to rebuild areas of deflation around the cheek and lower eyelid regions. By using this technique, which now includes even more extensive fat injections, Dr. Sullivan has found he can provide his patients with an unusually natural and refreshed appearance that helps the patient avoid appearing as though they have had surgery. The results of his technique are clearly demonstrated in the patient's before and after photos, which will be presented at the meeting in Chicago.
The Plastic and Reconstructive Surgery Journal is a peer reviewed medical journal and is the premier source for both digital and print articles that are "dedicated to chronicling the present and laying the experimental and clinical foundations for future advances in clinical plastic and reconstructive surgery." It is also the official journal of the of the American Society of Plastic Surgeons, the American Association of Plastic Surgeons, the American Society for Aesthetic Plastic Surgery, Inc., the American Society of Maxillofacial Surgeons and the Plastic Surgery Research Council.
Dr. Sullivan specializes in providing his patients with an enhanced natural appearance through his plastic surgical treatment. Dr. Sullivan will also take part in a "point counter point" discussion with another surgeon. Here, Dr. Sullivan will demonstrate how he supports the eyelid region during surgery in an effort to provide a very safe and natural result during the healing period. He will also be emphasizing how surgeons can avoid problems with surgery of the lower eyelid. He says this surgery is technically demanding and each individual patient presents a unique set of problems that need to be accurately identified and optimally treated.
As Dr. Sullivan has stated, "These meetings are very exciting. It gives us an opportunity to update plastic surgeons from across the nation and the world on the very latest treatments available to patients. We now have some very powerful treatment options available to address the complex range of changes that often take place with aging. These treatments give surgeons the opportunity to use their artistic skill to provide patients with an optimal result."
For more information about Dr. Sullivan's award winning publication, please see his blog post entitled, "Highlights from Dr. Sullivan's Recent Publication in Plastic and Reconstructive Surgery Journal," posted January of 2014. To read more about the award ceremony in Chicago, please see the recent press release by the Plastic and Reconstructive Surgery Journal entitled, "Plastic and Reconstructive Surgery and PRS Global Open Announce 2014 Best Paper Awards."
To speak with Dr. Sullivan, or to schedule a consultation, please do not hesitate to contact his practice by phone at 401-831-8300 or via his website at www.drsullivan.com.
Contact:
Patrick K. Sullivan, MD, FACS
235 Plain St. # 502
Providence, RI 02905
401-831-8300
Rosemont Media
(858) 200-0044
www.rosemontmedia.com