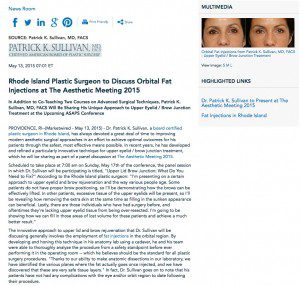 In addition to co-teaching two courses on advanced surgical techniques, Patrick K. Sullivan, MD, FACS will be sharing his unique approach to upper eyelid / brow junction treatment at the upcoming ASAPS conference.
Providence, RI — Dr. Patrick K. Sullivan, a board certified plastic surgeon in Rhode Island, has always devoted a great deal of time to improving modern aesthetic surgical approaches in an effort to achieve optimal outcomes for his patients through the safest, most effective means possible. In recent years, he has developed and refined a particularly innovative technique for upper eyelid / brow junction treatment, which he will be sharing as part of a panel discussion at The Aesthetic Meeting 2015.
Scheduled to take place at 7:00 am on Sunday, May 17th of the conference, the panel session in which Dr. Sullivan will be participating is titled, "Upper Lid Brow Junction: What Do You Need to Fix?" According to the Rhode Island plastic surgeon: "I'm presenting on a certain approach to upper eyelid and brow rejuvenation and the way various people age. Some patients do not have proper brow positioning, so I'll be demonstrating how the brows can be effectively lifted. In other patients, excessive tissue of the upper eyelids will be present, so I'll be revealing how removing the extra skin at the same time as filling in the sunken appearance can beneficial. Lastly, there are those individuals who have had surgery before, and oftentimes they're lacking upper eyelid tissue from being over-resected. I'm going to be showing how we can fill in those areas of lost volume for these patients and achieve a much better result."
The innovative approach to upper lid and brow rejuvenation that Dr. Sullivan will be discussing generally involves the employment of fat injections in the orbital region. By developing and honing this technique in his anatomy lab using a cadaver, he and his team were able to thoroughly analyze the procedure from a safety standpoint before ever performing it in the operating room – which he believes should be the standard for all plastic surgery procedures. "Thanks to our ability to make anatomic dissections in our laboratory, we have identified the various planes where the fat actually goes once injected, and we have discovered that these are very safe tissue layers." In fact, Dr. Sullivan goes on to note that his patients have not had any complications with the eye and/or orbit region to date following their procedure.
Knowing there are many different techniques for this area of the face, Dr. Sullivan states that he is thrilled to share something he believes to be a safe and effective approach to upper eyelid and brow rejuvenation. "We're going to show four-year patient followups demonstrating that the fat stays alive after the procedure, as well as how it has been able to help our patients achieve a much more youthful and rejuvenated appearance than other alternative methods."
In addition to participating in the panel discussion on Sunday, May 17th, Dr. Sullivan will also be co-teaching two courses at The Aesthetic Meeting 2015 later that day. Titled "Aesthetic Eyelid and Forehead Surgery that Focuses on a Natural Result for the Patient", the first course is scheduled to take place from 2:00 pm to 4:00 pm. The second course – titled "Advanced Techniques for Rejuvenation of the Neck and Lower Face" – is set to occur from 4:30 pm to 6:30 pm.
Ultimately, Dr. Sullivan is honored to be involved in such an esteemed conference, and he looks forward to doing his part in helping improve the level of plastic surgical care patients receive worldwide. "I think The Aesthetic Meeting is the most important conference in the world for a plastic surgeon to attend because it enables leading physicians from around the globe to come together and collectively share techniques in order to get the best patient outcome. It also includes discussing material that hasn't yet been published, which means you get to see and learn things that are newer than what you would even read in medical journals. In the end, the patient really benefits from surgeons learning the latest, safest procedures available."
About The Aesthetic Meeting 2015
Hosted annually by the American Society for Aesthetic Plastic Surgery (ASAPS), this year's conference is scheduled to take place at the Palais des Congrès in Montréal, Quebec, Canada from May 14th to May 19th. Plastic surgeons traveling from all over the world will gather to present, discuss, and learn about inventive approaches to resolving some of the most challenging issues present in aesthetic surgery today, all in an effort to enhance patient care worldwide.
About Patrick K. Sullivan, MD, FACS
Dr. Sullivan is certified by both the American Board of Plastic Surgery and the American Board of Otolaryngology. Voted by his peers as a top plastic surgeon in Rhode Island, he is renowned for his skill and expertise in aesthetic surgery of the face, breasts, and body. Among many honors and recognitions, Dr. Sullivan has been named in the top one percent of plastic surgeons in America by U.S. News & World Report, and Castle Connolly has distinguished him as one of "America's Top Doctors". He is available for interview upon request.
For more information, visit www.drsullivan.com.
Contact:
Patrick K. Sullivan, MD, FACS
235 Plain Street, Suite 502
Providence, RI 02905
(410) 831-8300
Rosemont Media
(858) 200-0044
www.rosemontmedia.com