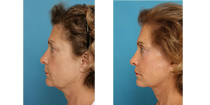 Karen and her husband came to see me for a consultation about her face. They are a team and it was wonderful to see the support he gave her.
Karen had lost a significant amount of weight and was working hard trying to get into great shape. She is a ballroom dancer and has a tremendous amount of energy. She wanted her face to reflect the energy and youthfulness that she felt on the inside.
Her surgery involved an endoscopic brow lift and forehead rejuvenation to bring her brows back up into a more youthful position, lower face and neck surgery to recontour and resculpt the face and neck, upper and lower eyelid surgery and fat injections to areas of her face and lips to sculpt the areas where deflation had taken place.
View before and after pictures of facial rejuvenation procedures >