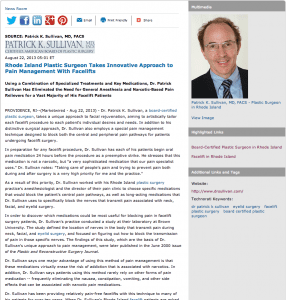 Using a combination of specialized treatments and key medications, Dr. Patrick Sullivan has eliminated the need for general anesthesia and narcotic-based pain relievers for a vast majority of his facelift patients.
Providence, RI – Dr. Patrick K. Sullivan, a board-certified plastic surgeon, takes a unique approach to facial rejuvenation, aiming to artistically tailor each facelift procedure to each patient's individual desires and needs. In addition to his distinctive surgical approach, Dr. Sullivan also employs a special pain management technique designed to block both the central and peripheral pain pathways for patients undergoing facelift surgery.
In preparation for any facelift procedure, Dr. Sullivan has each of his patients begin oral pain medication 24 hours before the procedure as a preemptive strike. He stresses that this medication is not a narcotic, but "a very sophisticated medication that our pain specialist uses." Dr. Sullivan notes: "Taking care of people's pain and trying to prevent pain both during and after surgery is a very high priority for me and the practice."
As a result of this priority, Dr. Sullivan worked with his Rhode Island plastic surgery practice's anesthesiologist and the director of their pain clinic to choose specific medications that would block the patient's central pain pathways, as well as long-acting medications that Dr. Sullivan uses to specifically block the nerves that transmit pain associated with neck, facial, and eyelid surgery.
In order to discover which medications could be most useful for blocking pain in facelift surgery patients, Dr. Sullivan's practice conducted a study at their laboratory at Brown University. The study defined the location of nerves in the body that transmit pain during neck, facial, and eyelid surgery, and focused on figuring out how to block the transmission of pain in those specific nerves. The findings of this study, which are the basis of Dr. Sullivan's unique approach to pain management, were later published in the June 2000 issue of the Plastic and Reconstructive Surgery Journal.
Dr. Sullivan says one major advantage of using this method of pain management is that these medications virtually erase the risk of addiction that is associated with narcotics. In addition, Dr. Sullivan says patients using this method rarely rely on other forms of pain medication–frequently eliminating the nausea, constipation, vomiting, and other side effects that can be associated with narcotic pain medications.
Dr. Sullivan has been providing relatively pain-free facelifts with this technique to many of his patients for over ten years. When Dr. Sullivan's Rhode Island facelift patients are asked to rate their pain 0 to 10 during and after surgery, the average rating is less than 1 (0.7) out of 10. Dr. Sullivan says patients may experience some discomfort, but rarely do they experience pain.
He notes that an added benefit of this technique is the avoidance of general anesthesia. Only sedation is required with this method of pain management, which means that patients do not experience the side effects associated with general anesthesia. Dr. Sullivan feels it decreases the risks of anesthesia—there is no need for a tube down the patient's windpipe, no respirator, and patients are not temporarily paralyzed for the treatment. "I think the patients have a much safer experience being able to avoid general anesthesia," says Dr. Sullivan. "By and large, patient satisfaction is extremely high and so many patients are surprised that they do not experience any pain during or after surgery."
About Patrick K. Sullivan, MD, FACS
Dr. Patrick K. Sullivan is a board-certified plastic surgeon and earned his medical degree from the Mayo Medical School in Minnesota. He completed his residencies at the University of Colorado and Brown University in Rhode Island, and has been named in Woodward and White's "Best Doctors in America" as one of the "Top Plastic Surgeons" in the United States. Dr. Sullivan is available for an interview upon request.
The practice can be reached online at drsullivan.com or facebook.com/doctorsullivan