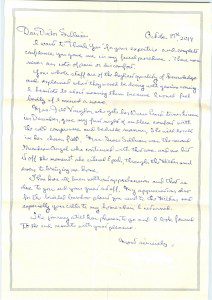 Dear Dr. Sullivan:
I want to 'Thank You' for your expertise and the complete confidence you gave me in my facial procedure. There was never an iota of pain or discomfort.
Your whole staff are of the highest quality of knowledge and explained what they would be doing with genuine caring. I hesitate to start naming them because I would feel badly if I missed a name.
Mrs. Jill Vaughn, who gets her Nurse Practitioner License in December, gave my first night an endless comfort with the cold compresses and [her] bedside manner. She will excel in her chosen field. Mrs. Grace Sullivan was the record guardian angel who continued with the care and we hit it off the moment she entered Epoch, through the Hilton and even to bringing me home.
This has all been without apprehension and that is due to you and your great staff. My appreciation also for the braided bamboo plant you sent to the Hilton and especially your calls to my home when I returned.
The journey still has phases to go and I look forward to the end results with great pleasure.
Most Sincerely,
[Facial Rejuvenation Patient-Name Omitted for Privacy]