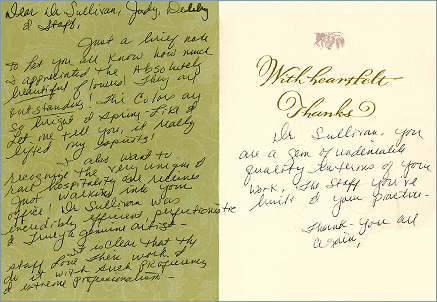 Dear Dr. Sullivan, Judy, Debby, and Staff,
Just a brief note to let you all know how much I appreciated the absolutely beautiful flowers! They are outstanding! The colors are so bright and spring-like and let me tell you, it really lifted my spirits!
I also want to recognize the very unique and rare hospitality we received just walking into your office! Dr. Sullivan was incredibly efficient, perfectionist and truly a genuine artist. It is clear that the staff love their work and do it with such proficiency and extreme professionalism. Dr. Sullivan, you are a gem of undeniable quality in terms of your work, the staff you've built, and your practice.
Thank you all again,
Name omitted for patient privacy