Dr. Sullivan is humbled and honored to have been included in the top American Society of Plastic Surgeons social media posts for the month of September. The post that garnered so much attention was a video that discussed Dr. Sullivan's proven eyelid rejuvenation technique that combines removing the bags, treating the lid cheek junction deformities (circles under the eyes), and significantly improves cheek contour. In this video, Dr. Sullivan goes over the most oft-cited eyelid issues that people come to him with.
Dr. Sullivan's Rejuvenation Technique
Puffiness and circles under the eyes lead people to think they have eyes that look tired or feel these make them look sad. This often brings people in their 20s,  30s, and older in for treatment, scared that if their eyes already look tired, then it may make them look older than they are and also make it challenging in the workplace. It is frustrating to have people say "you look tired" when you are not.  Though these issues are usually inherited traits, it does not take away from a person's fears or concerns.
First, Dr. Sullivan discusses your ultimate goals with you, and from there, he will help you figure out the right treatment. Dr. Sullivan worked at the renowned labs of Brown University to figure out the best rejuvenation routine for eyelids, the cheeks, and the face.  He has gone on to teach it not only to patients but has been frequently invited to teach his fellow plastic surgeons at national and international plastic surgery meetings including the American Society of Plastic Surgeons.
ASPS Top Social Media Posts September 2020
The acknowledgment of this landmark technique by the American Society of Plastic Surgeons was a great honor for Dr. Sullivan. Being a world-renowned and well-respected board-certified plastic surgeon, Dr. Sullivan is always pushing himself and striving for new and better ways to help those people who seek his care.
According to Dr. Sullivan: "Being selected as a Top American Society of Plastic Surgeons social media posts for September 2020 is an honor we appreciate. Teaching the special eyelid and facial rejuvenation techniques, we developed here through the use of the Brown University labs has been very gratifying. It is a great pleasure to give our patients the best and the latest as well as give back by teaching other plastic surgeons."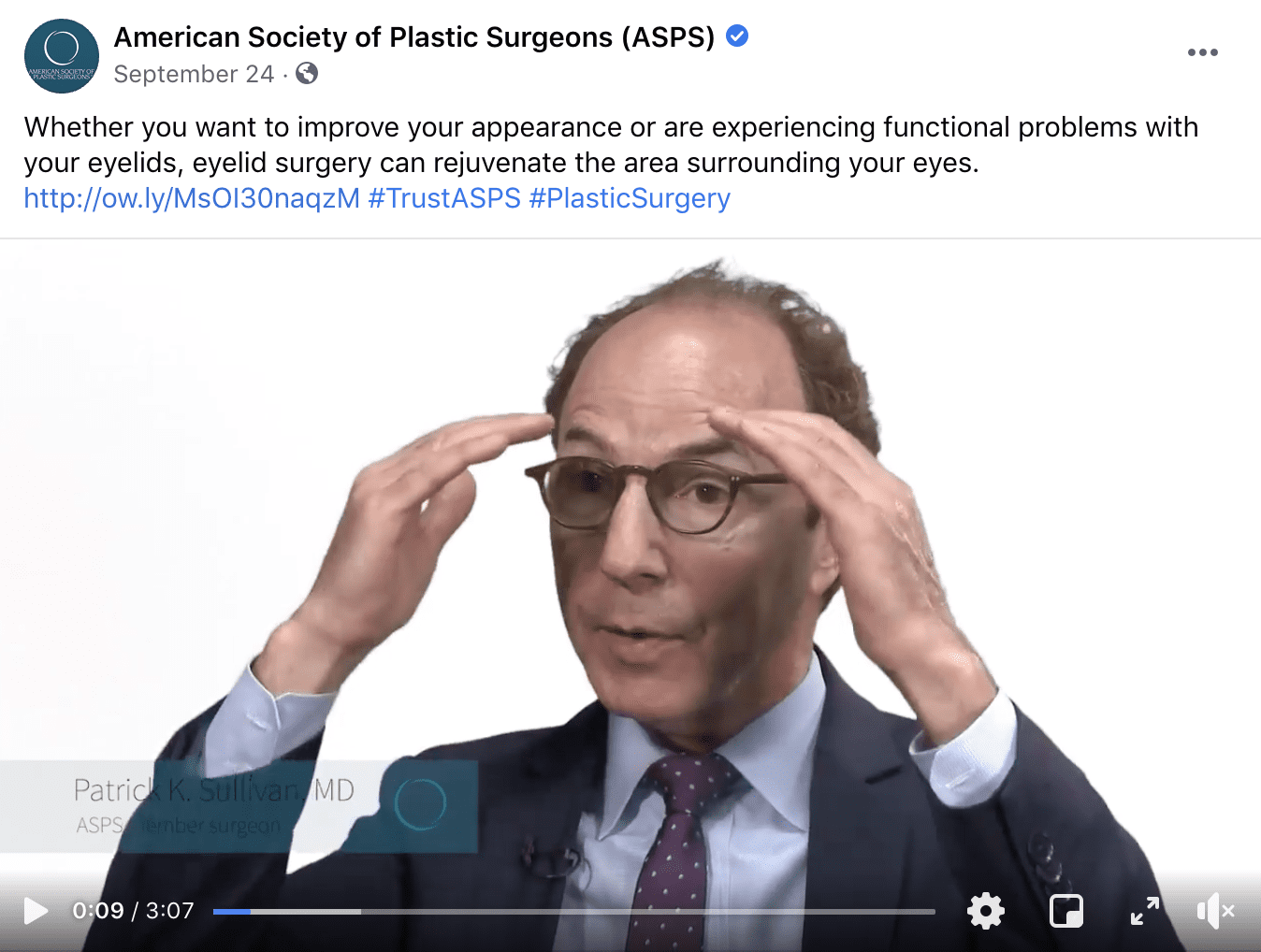 If you haven't yet seen the video yet, you can watch it here, as well as other educational videos on his website.  Feel free to contact Dr. Sullivan with any questions you may have, or to set an appointment to discuss making your eyes look precisely as you want them to.
An Expert On Eyelids and Faces
Dr. Sullivan focuses on improvements the individual patient wants to have done, whether in the upper or lower lid as well as the upper and lower face/neck.  He has worked for years to develop the best techniques to get results with as little invasion as possible.  He uses endoscopes frequently on the facial region to prevent large external incisions and he emphasizes minimally invasive techniques.
Incisions are unnoticeable in the procedures that Dr. Sullivan has worked hard to perfect. He can then close it with few stitches, and in some cases, will not even need to close an incision at all. The recovery period is a few weeks, and patients see improvements right away.
Dr. Sullivan is a sought after board-certified plastic surgeon and has consulted top plastic surgery organizations throughout the country on his cutting edge eyelid rejuvenation techniques. The ASPS decision to highlight the video that shares his specialized techniques is a cause of great honor.