Dr. Sullivan is proud to announce a new minimally invasive rejuvenation treatment for the "tired appearance" that so many of us begin to experience with aging; negatively affecting our esteem, complexion, and confidence.
The Causes of a Tired Appearance
Various factors come together that can make your face appear tired and exhausted. The lower eyelids become puffy with unwanted fatty tissue, dragging your eyes down slightly or significantly into a sad and tired-looking semblance. The loss of volume from your cheeks can further highlight the bags and puffiness beneath the eyes. Regardless of how you're feeling—youthful, alive, vibrant—these physical markers of your appearance may make you look tired, old, and often grumpy, which, in turn, can affect your mental health and confidence. It also may affect how others perceive you and treat you.
Dr. Sullivan's Tired Appearance Treatment is an innovative rejuvenation for this. Most cosmetic treatments address individual components of a tired appearance—the bags beneath the eyes or the deflated cheeks. But with his new service, Dr. Sullivan combines various techniques that address puffy lower eyelids, bags, deflated cheeks, and midface sagging simultaneously. As such, it is a specialized cosmetic procedure that with one minimally invasive surgery elevates your appearance, making you look sharp and youthful. And the scars are hidden.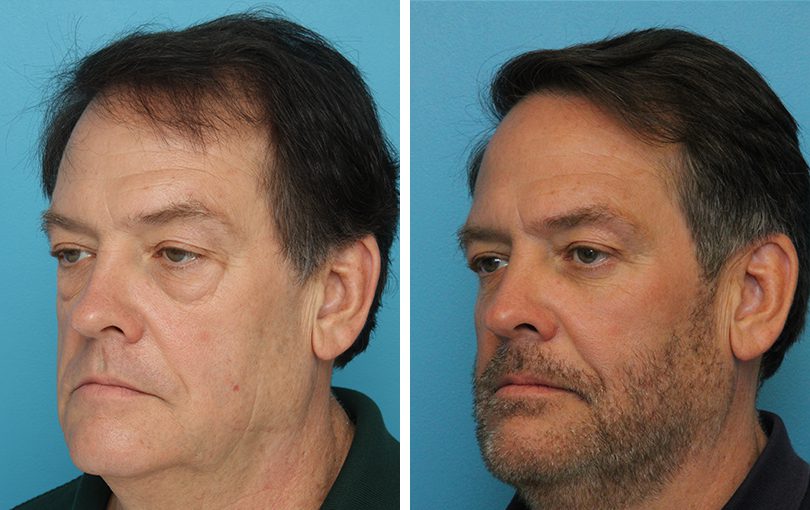 Tired Appearance Correction Treatment
This treatment is a minimally invasive surgery for the rejuvenation of the lower eyelids and the cheeks—two of the facial areas most often impacted by the early signs of an aged and tired appearance.
1. Preoperative artistic planning is essential
Equally as important as what will be done during the procedure is what is done before it. In step one, Dr. Sullivan carefully plans out what steps to take exactly and how dramatic these need to be for a very natural and youthful outcome. Lines are drawn on the face to reflect these changes and to serve as Dr. Sullivan's guide while in surgery.
2. A lower eyelid blepharoplasty is done to remove bags and puffiness
This leaves no visible scars as they are hidden inside.
3. Specialized micro fat injections
This portion of the treatment is done using specialized and very delicate instrumentation Dr. Sullivan developed for this procedure both for harvesting the patient's own fat and injecting it. Dr. Sullivan removes the circles under the eyes and fills the lower eyelid-cheek junction as well as the deflated cheeks that extend into the midface. For this portion of the procedure, fat is harvested from the patient's thighs.
Dr. Sullivan's use of this specialized instrumentation enables him to develop the technique with microfat. Therefore, the results are smooth and natural without lumps or bumps. He has found that the longevity of the fat survival has been superb in his hands. Thus, he determines preoperatively the optimal amount of fat to treat each individual area on each side of the face (all faces are asymmetric) and because of the longevity of survival, he never over injects.
Below, we discuss what is involved in the Tired Appearance Treatment:
Step 1: Initial Consultation
Your Tired Appearance Treatment procedure starts with an initial consultation with Dr. Patrick Sullivan. Dr. Sullivan is an incredibly skilled cosmetic surgeon with over 25 years of experience, officially designated as one of the top 1% plastic surgeons in the US by Castle Connolly. He has innovated numerous cosmetic techniques that have eventually become standardized procedures in the industry.
During your initial consultation, Dr. Sullivan will carefully examine your face, eyes, skin, and artistic proportions as well as how he can help you. He will review your medical history, and discuss your cosmetic concerns. He'll ask how you feel and what you expect from the procedure and explain your treatment options. If you're a viable candidate, he'll walk you through the entire Tired Appearance Treatment plan. This is the right time to clarify all your questions and concerns.
Step 2: Treatment
Tired Appearance Treatment is performed as an outpatient procedure that involves eyelid and mid-face surgery as well as micro-fat injections. The procedure is usually performed with I.V sedation anesthesia (so you don't hear, feel or see anything) —Dr. Sullivan will discuss your options beforehand. The procedure basically involves a combination of multiple minimally invasive treatments—that characteristically have a faster recovery.
● Lower Eyelid Blepharoplasty
Lower eyelid blepharoplasty, also known as lower eyelid rejuvenation is a very common procedure for Dr. Sullivan. He makes a hidden incision to remove and sometimes reposition what appears to be the excess fatty tissues. After removing the appearance of puffiness and bagginess, attention is turned to the circles under the eyes and the cheek deformities
● Micro-Fat Injections
Tired Appearance Treatment also involves his micro-fat injections to remove the circles under the eyes, fill the lower eyelid-cheek junction, and restore volume to the midface region (which in some patients can be a huge issue in their aging process. We use cutting-edge instrumentation specifically designed by Dr. Sullivan for this procedure to harvest fat tissues from the thighs (never leaving a donor site deformity in his experience of over 1000 fat injection patients) and inject them into the strategically chosen regions around the lower eyelids. The fat grafts restore facial volume and rejuvenate your cheeks, giving you a more youthful natural appearance.
Step 3: Recovery
The Tired Appearance Treatment is a minimally invasive outpatient procedure, so you can return home the same day to start the recovery process. Dr. Sullivan will discuss your post-treatment recovery guidelines, activity limitations, and when you can resume your daily activities. You must follow all his recommendations accurately. Each individual goes through a unique recovery journey, so you must discuss the specifics of your expectations with Dr. Sullivan.