How can we best help the large number of children in Southern Africa with facial deformities who cannot afford health care?
One way is for us to operate on those children and help individual children. Another is to work with the doctors who are in the area and help them provide the care to a much larger number of children. We chose the later recently at The Red Cross Children's Hospital in Cape Town, South Africa and we have had the amazing opportunity to do just that in other parts of Africa and South America in the past. This type of work is extremely gratifying for us as we have been given so many opportunities by being born in the United States.
There are surgeons in Cape Town with amazing skills. We were fortunate enough to work with several of the impressive surgical leaders in South Africa. We were able to use our enormous experience with artistic and natural facial-shaping techniques using fat injections with our aesthetic patients and apply that knowledge to the care of our children with facial birth defects, developmental problems, and deformities after facial tumor removal.
It was an honor to be able to share this information with our esteemed and expert colleagues in South Africa. We had the pleasure of working with the Head of Plastic Surgery at the Red Cross Children's Hospital in Cape Town as well as the Chairman of Plastic Surgery at the University of Cape Town. They have enormous experience in handling crania-facial trauma and one of their immediate goals is to further develop their crano-facial program for children. We are currently helping them reach this goal.
It was spectacular to meet with the team, see their amazing work with children and share our experiences of ways we have been able to use fat injections to rebuild our patients' faces. Our fat injections for reconstructing children's faces have been proven very successful and long-lasting and this is an area where they want to improve. Any way that we can share our work with expert physicians who thereby can help the children that they care for is such an honor and we are humbled by that opportunity.
The Red Cross Children's Hospital in Cape Town, South Africa offers a comprehensive range of specialist pediatric services to children. It is a center of excellence for the training of all categories of child health professionals. It was built in 1956 and is the largest, stand-alone tertiary hospital dedicated entirely to child healthcare. It is also a teaching hospital for the University of Cape Town.
Children from all over Africa are referred to the Hospital by referral hospitals, clinics and smaller hospitals. The Hospital provides training to pediatric healthcare professionals from the entire sub-continent and conducts innovative and groundbreaking research into the childhood illnesses that has a strong global impact.
The Red Cross Children's Hospital is regarded as South Africa's leading center for postgraduate specialist pediatric medical and surgical training. The hospital's tertiary facility provides comprehensive dedicated pediatric services with a full range of sub-specialties at quaternary, tertiary and secondary levels of care.
The Hospital has over 250,000 patient visits each year, the vast majority of which are from exceptionally poor and marginalized communities. This incredible place of healing advocates that no child will ever be turned away and parents are encouraged to be a part of their child's healing journey of recovery. The true purpose of the Red Cross Children's Hospital Children is help and heal tomorrow's next generation – children.
We are very excited to be working with these children and the team at the Red Cross Children's hospital in Cape Town. We look forward to partnering with you, who are reading this, and anyone who would like to join us in this incredible and important collaboration.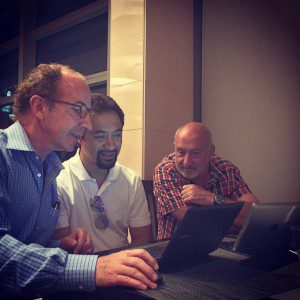 Dr. Sullivan pictured with the Head of Plastic Surgery – Professor Saleigh Adams (center), Professor Don Hudson, discussing fat injections for treatment of facial deformities in our children.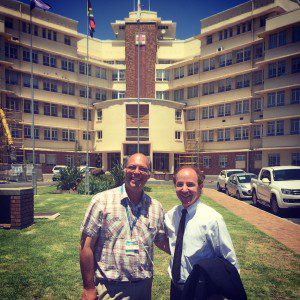 Celebrating an incredible time at the Red Cross Children's Hospital with Alp Numanoglu, Professor and Head Division of Pediatric Surgery.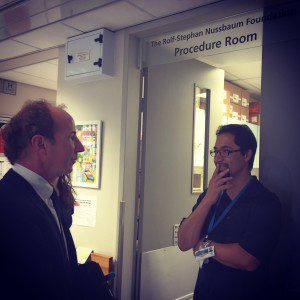 Dr. Sullivan with Professor Saleigh Adams – Head of Plastic Surgery at the Red Cross Children's Hospital.