Meet Marjorie, a 51-year-old oncologist, who reduced her weight by a staggering 160 pounds.
"Like many who have undergone extensive weight loss, I have loose skin… everywhere. I loathe my loose skin on my neck and the 'melted' appearance of my face."
These are the pre-op words of a recent patient of Dr. Sullivan's, who underwent a very tailored multi-layered targeted face and neck lift after losing 160 pounds through a keto diet and intermittent fasting.
Marjorie, a 51-year-old oncologist from San Fransisco, California, previously described herself as "morbidly obese for decades."
Seeing her today, you would never guess this, and possibly even doubt it ever was the case. But it was. Strong motivation, strict discipline, and lifestyle changes have made her a changed woman—and her Sullivan facelift and neck rejuvenation helped her to get rid of the unwanted skin laxity and restore more youthful contours to her cheeks, jawline, and neck.
"I wanted to come to the best."
Having lost the body weight, she now hoped to lose the skin laxity, the deflated areas of her face, the jowls, and the evidence of aging across her face and neck.
So she boarded an airplane and flew the 2,689 miles from her hometown of San Francisco, CA to Providence, RI.
"I wanted to come to the best," she told Dr. Sullivan. "I think that you'll be able to give me the aesthetics I'm looking for."
Dr. Sullivan would aim to do just that, giving her the best of aesthetics for her own unique situation. "We're going to take care of the lax skin, but also treat with micro fat injections some of the areas that have deflated with your incredible weight loss." Dr. Sullivan carefully marks the specific face and neck target areas and gets Marjorie's input and agreement along the way.
A Totally Patient-Tailored Facelift
The Sullivan targeted facelift always includes detailed preoperative markups of exactly what the patient needs to be addressed and what problems are to be solved in each specific area. This entails using special markers all over the face and neck, and because the look is so unusual, it's also often a surprise to the patient. Seeing themselves in the mirror, patients chuckle.
These are the markings show the detailed customized plan Dr. Sullivan creates for each patient and that will guide almost every detail the procedure.
The Sullivan facelifts aren't merely "lifts" but are actually a sculpting procedure—removing tissue where it needs to be removed, adding micro fat where it needs to be added. Indentations from her significant weight loss will be filled, and unwanted fullness will be leveled out, lifted, and sculpted. Drooping eyelids will be resolved. The "melted" appearance Marjorie spoke of will be replaced by a youthful, feminine definition.
For Marjorie, there are deep valleys in the cheek areas adjacent to large cheek (malar) mounds, jowls that will be removed, and fat additions to be made in concavities on either side of the chin and around the mouth. The neck will also be lifted and contoured, and a defined jawline will be carefully sculpted.
Invisible Incisions, Tension-free healing, and a Healthy Blood Supply
Marking out several different kinds of incisions to be done to save the precious hair, provide the optimal length of the tragus (the prominence in front of the ear), and give the earlobe a more youthful appearance, as well as a subtle and natural start to the cheek area, Dr. Sullivan will hide the incisions as much as humanly possible.
Dr. Sullivan's goal is when all is said and done, she will even be able to wear her hair up with no one ever able to tell where the incisions had once been placed. The carefully place individualized incisions, combined with the multilayered surgical techniques Dr. Sullivan will use, will mean that no tension is placed on the skin and that a beautiful and healthy blood supply will reach all treated areas.
"The goal is to define the perfect ear," says Dr. Sullivan to match the rejuvenated face.
Skin Laxity, Asymmetry, and Safely Correcting Contour Irregularities
Extra skin and puffiness in the upper eyelid region is very conservatively addressed and taken out, excessive fat in the lower eyelids is removed as well.  The circles under her eyes and the contour deformities of her cheek will be filled with her own fat—using the Micro fat technique Dr. Sullivan developed.  He designed his own instruments for this treatment in his effort to create the best and the safest means of correcting the problem. Each side of the face will also be treated a bit differently: Asymmetries will also be corrected, and we all have them.
The surgery is a success. Each of the carefully planned changes to be done have been made a reality. Dr. Sullivan has done several thousand facial rejuvenations and each is unique, customized, and shares the fact that they are all 100% patient-tailored.
Postoperative Healing Begins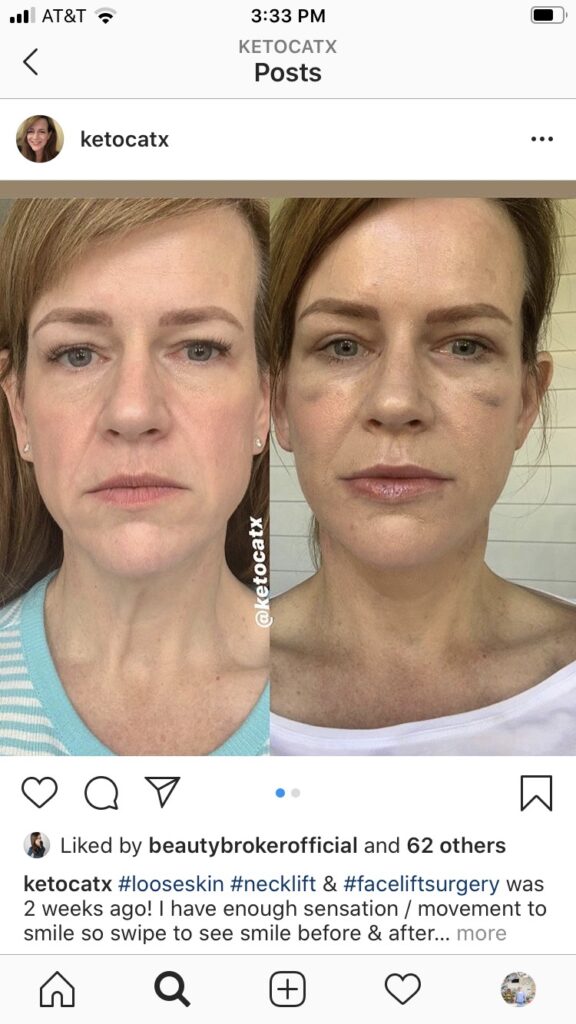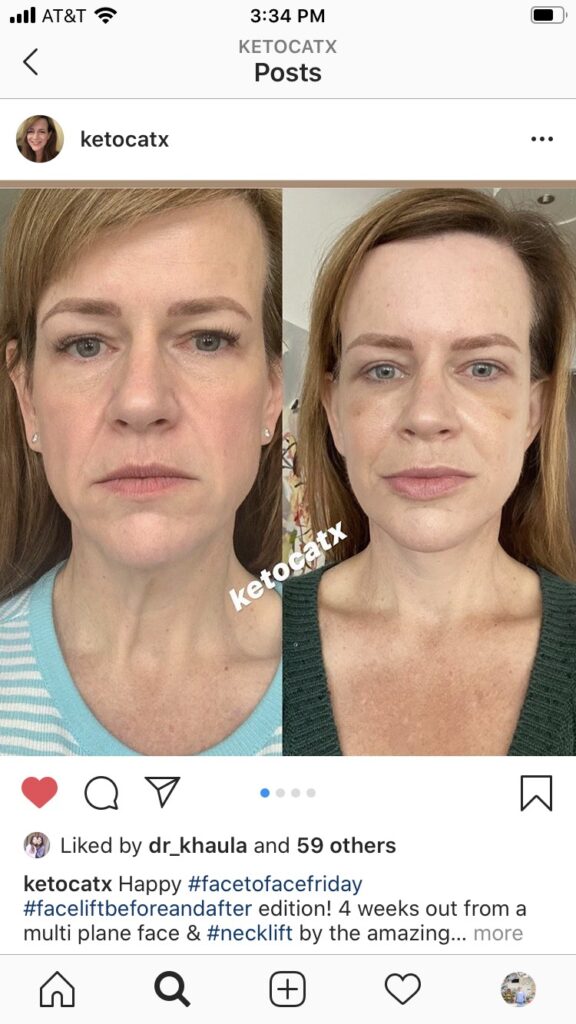 Following the procedure, Dr. Sullivan showed Marjorie pictures of the procedure. "It was fascinating how he corrected my hooded eyes. It turns out I had an unusual fat deposit in the upper lids adding to the drooping. Dr. Sullivan removed this along with some of the extra skin in the upper eyelids.
"I'm so happy with my decision to come to see Dr. Sullivan," she said. "And his team is great as well. I'm a picky Medical Doctor and if I find someone great, I'm going to let people know." (Marjorie is herself an oncologist.)
By 6 days after the eyelid, face, and neck rejuvenation some swelling remained visible but was rapidly subsiding. I 
"can already see the marked improvement in multiple areas of my face and neck. Look at my cute earlobes! Love the subtle lift of my upper lip. Eyes and neck are AMAZING." 
By day 12, "The entire experience has exceeded my expectations!" she says.
Using cool compresses intermittently she healing very well and is "loving the jawline and no turkey neck."
Keto Chow shakes were a dietary staple for Marjorie.  Dr. Sullivan encourages protein shakes and has a whole regime to guide patients postoperatively.
Five weeks out from her face and neck lift, Marjorie is looking great and feeling incredible. So good in fact, she compares herself now, at age 51, to herself in a picture at age 19.
She looks and feels as youthful as ever.