Let's face it – We live in a society where we are obsessed with youth and beauty. This is prevalent not only in the thousands of beauty products that are on the market today 'to make you look and feel younger' or picture perfect photographs in fashion magazines, but this obsession is increasingly seen in the Monday-Friday / 9-5 workplace. With the rise of the Millennial Generation and with our youth-obsessed culture, the job market is becoming more competitive than ever.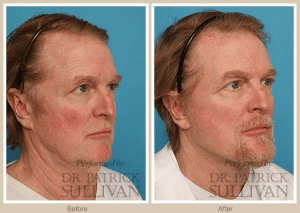 The majority of plastic surgery procedures are predominately performed on women, however, this trend has changed rather quickly in the past several years. According to The American Society for Plastic Surgery, Americans spent over $12 billion on various procedures in 2014. Interestingly, one sector is on the rise: More men are turning to aesthetic cosmetic procedures, with dramatic increases seen in both surgical and nonsurgical options over the 5 years and 43 percent increase overall.
According to Jennifer Harper of The Washington Times, men, like women, are facing an ageist job market and are looking at options to maintain their youthful appearance and to be more competitive with their younger counterparts in the workplace and job market. The reason for the rise in plastic surgery in men is simple: to look good, stay competitive, and enhance their career in the ever-changing workplace.
At our practice, we have seen a significant increase in male patients over the last 5 years, and we don't expect this changing any time soon. Our average male patient's age varies depending on the treatment desired and but their concerns reflect this trend.
With today's competitive job market, both men and women need to look and feel their best. Non-surgical injections such as Botox, Dysport, and Fillers such as Juvederm, Voluma, Restylane (Lyft) are now VERY common. Men prefer the in-office procedures with no down time.
Kybella has become especially popular with men to help with a non-surgical treatment of excess fatty deposits in the neck and an unwanted double chin.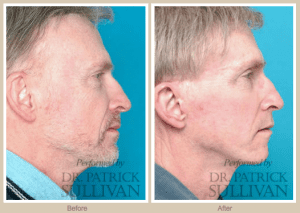 More men are realizing and understanding the importance of skin care. Elastiderm and various Alphaeon products including the Teoxane line have increased in popularity as men have learned the benefits.   For example, epidermal growth serum (Alphaeon) and Teoxane RHA serum are particularly beneficial after shaving. Retinols and effective high-quality sunscreen products are finally being used more routinely in well-informed men.
The most common procedures for men in our office surgery suite (where privacy and confidentiality are highly respected) are some form of facial rejuvenation. This includes eyelid rejuvenation (blepharoplasty) which is a common procedure for men. They realize their eyes make them look tired and old. Thus, we can effectively treat the puffiness and the circles as an outpatient procedure with no visible scars. A facelift may also be one of the components of the facial rejuvenation but that is only part of the treatment as aging changes.
Fatty deposits, in the neck and jowl areas, can be removed at the same time. Our neck lifts have been particularly helpful in men as the neck area can make someone look old even though they are still very active, healthy, and still work professionally.
Our specialty is giving our patients a VERY NATURAL APPEARANCE with their surgery.   This involves treatment of each patient's unique problem and concern. Aging can manifest itself in very different ways so we have found that with our careful analysis and our highly specialized and focused treatments have lead to happy and satisfied patients with a very refreshed appearance. For example, fat injections to fill in deflated areas and also to create masculine contours have been a great addition to the rejuvenation.
Men also come in for treatment of enlarged breasts (gynecomastia) as we have very effective proven techniques for treating this. Admittedly, it is highly technical and a bit more time consuming in the operating room but well worth it in the final results.
Nasal shaping surgery (rhinoplasty) and body contouring are also popular with men at our practice.
The procedures mentioned are done with IV sedation and NOT standard GENERAL anesthesia. Thus, our patients are not paralyzed, incubated or put on a respirator yet they don't hear, feel, or see anything. We feel this significantly increases our patients' safety and comfort.
To learn more about our procedures for men, please feel free to contact our office for a consultation at 401.831.8300.