What are Marionette Lines?  What is RBF?
As we age, many of us experience the formation of deep lines and wrinkles in the face.  One common area of concern is the formation of "marionette lines".  Colloquially referred to as "marionette lines", these are deep creases that run from the outer corners of the lips to the outer corners of the chin. Because of their drooping quality, marionette lines can give one a perpetual frowning look.  Some also call this RBF or less favorably "resting bitch face"
What is the best treatment for Marionette Lines and RBF?
Most providers will lean towards offering fillers as a non-invasive treatment option.  While these have their purpose and can be effective on a short term basis, in select patients fillers can also lead to puffiness in the area.  Have you seen faces that are overfilled and look too puffy?  We have patients come to us after fillers done by others and say they feel like chip monks. There is a more long lasting solution that by contrast creates truly natural results.
For this we use our specialized targeted Natural SMAS Multilayer Facelift.  After the tissues have been lifted in this multilayered approach, we can then use fat injections harvested from the person's own body to smooth out and optimally contour the face.  With this procedure we are able to target the problem areas of the face and improve it as much as possible using a combination of both lifting and contouring.  Complimenting this with natural fat injections work to restore lost volume and complete the recontour of the face.
See below for truly natural results achieved with this process.  This patient had marionette lines that really bothered her. We were able to improve this area around her mouth and jawline with our specialized targeted Natural SMAS Multilayer Facelift, as well as the patient's own fat injections to restore the volume loss. With our Natural SMAS Multilayer Facelift we are able to target the specific areas the patient is concerned about as well as adjust for facial asymmetries.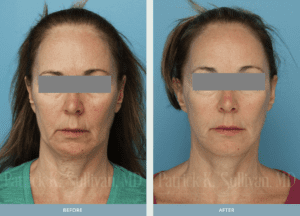 View our gallery here.