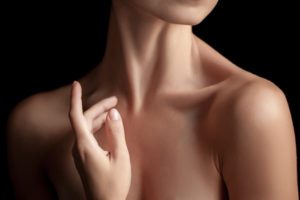 Concerned about your neck and other areas below your face? If you are interested in this very intriguing area, we give 5 stars to the New York Times feature in Fashion and Style – What To Do About Your Neck written by Crystal Martin. I met Ms. Martin at the faculty dinner at the Cosmetic Boot Camp in Aspen Colorado last July. We discussed a presentation I gave at the symposium she attended. That evening began a wonderful relationship with Ms. Martin asking for more information via email and me happily answering her probing and well thought out questions. She also asked me for more before and after pictures of patients who had come to me with specific concerns about their face and neck. I could tell Ms. Martin had a sincere interest in accurately educating the public about plastic surgery and I was extremely happy to assist her.
In the article, Ms. Martin discussed that the neck is often a forgotten area to take care of since there is so much emphasis on the face rather than on the neck and chest / decolletage. A few dermatologists in the article recommended procedures to pamper those areas of concern such as Dark Spots and crinkles due to sun damage. It was a great pleasure for me to talk about the common problem – 'turkey neck' in the article and ways to tighten and rejuvenate that area of concern. With skin sagging in the neck area, the options to choose from depend on the patient and the severity of the problem. Ms. Martin also discussed the treatment of fatty deposits in the neck. These collections of fat are such a common concern for people who come to see us about their neck – Kybella is an injectable acid that dissolves the excessive chin fat. This can be an option for some, but when the excessive fat is deeper in the neck; actual surgery is a better option. Ms. Martin discussed a test I told her about that helps us in deciding which procedure is best for the patient. She also mentioned that genetics play a key role in aging of the neck so when you look at your parents you may get a sense for what is to come.
But, we are so happy she quoted me in stating how important it is to "give a natural shape" as that is what gives the most artistically beautiful result.
Read full article here.