Last year, I was honored to take part in several panels at the American Society of Plastic Surgeons' (ASPS's) annual meeting in Toronto.  After participating in the panel on The Reoperative Neck: Successful Solutions for the Dissatisfied Patient, a nurse from the American Society of Plastic Surgical Nurses (ASPSN)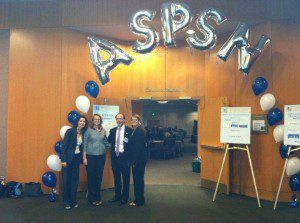 approached me to see if I would be interested in speaking at their national plastic surgery meeting this year in Denver. I, of course, was thrilled to be invited to speak at this annual gathering of nurses from around the country.
The focus of my presentation this year was on aesthetic surgery of the lower face and neck, and how anatomy, artistry & advanced techniques can make all the difference in plastic surgery.  But before jumping into aesthetic surgery of the lower face and neck, I chose to discuss a topic that I feel is very important in plastic surgery: the value of teamwork. As part of the discussion, I invited our Patient Coordinator and Practice Manager, Andrea DeSimone, and the Director of our Nursing Service, Erin Abrahamsen, R.N., to share their thoughts about how we work together as a team to provide quality plastic surgery care to our patients. Their contribution to this topic was invaluable, as is their extraordinary care of our patients.
Because busy plastic surgeons spend so much of their time in the operating room, it is vital to have a team in place that can always be available to care for patients, whether it is to answer questions, listen to concerns, or provide an unscheduled post-operative check-up. It is our strong belief that this solid framework helps promote optimal patient care and safety as well as outstanding plastic surgery outcomes.
When we take the time to establish a wonderful and warm relationship with our patients, we improve our ability to better meet their needs as patients. Yes; we want our patients to be happy with their surgical result but we also want our patients to leave our office feeling incredibly good about the time they spent here.  You can be certain that each one of us in our Providence practice is committed to this high standard of care.