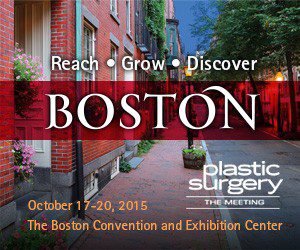 Plastic Surgery The Meeting 2015 is the world's largest gathering of plastic surgeons and surgical medical professionals will take place in Boston, Massachusetts on October 17-20, 2015. This conference now in its 89th year will bring over 3000 attendees in the field of plastic surgery and will take place at the Boston Convention and Exhibition Center. I am particularly thrilled about this upcoming conference as it will give us the opportunity to share our latest treatments for face lifting and rejuvenation. I was again this year to be a conference speaker. This year, my presentation will focus on Ways to Prevent Complications with Facial Rejuvenation. I will demonstrate how plastic surgeons can prevent potential complications of face lifting by customized planning of each patient's face and neck along with specific treatments during the surgery itself. Here are a few bullets points that I will be covering during my presentation:
The prevention of bleeding after surgery especially in patients with high blood pressure.
How to avoid the use general anesthesia but rather use IV sedation without any paralytic drugs, intubation or time on a respirator.
How we have been able to prevent pain post-surgery:

I will demonstrate how we use of nerve blocks on the key sensory nerves using a very long acting anesthetic agent.
We have our patients use an oral cox 2 inhibitor medication the day before surgery and for the next 7 days.
This treatment combination has been successful in keeping a large number of my patients "pain free" and the other patients much more comfortable post-operatively.  We also can avoid the use of narcotics in a large number of patients.

How we can prevent an operated appearance by not just lifting skin but rather a multi-layered approach that takes into account each person's unique facial appearance.
I believe facelifting should be done as a layered approach so the person's facial shape and unique characteristics can be carefully addressed. A facial rejuvenation that takes into account all factors of aging gives the best result. We really love to sculpt down excessive fatty deposits around mouth and in the neck area when they are present. I also inject fat into areas that appear deflated or where additional volume would give a more natural enhancement and that has been particularly beneficial.
I look forward to sharing our large experience and our natural results with practitioners, residents and other interested health professionals from around the globe with a well-rounded program of cosmetic and reconstructive surgery presentations intended to broaden the understanding of plastic surgery and enhance patient care.
To learn more about this procedure, please feel to contact our office for a consultation at: 401.831.8300.