As part of our commitment to providing five star patient centered care we aim to offer the latest skin care products and topical treatments, as well as both surgical and injectable options. Therefore, we are excited to share with you a few of our favorite products now available at our office. We are pleased to announce we are now carrying several products developed by the world renowned Teoxane Geneva Laboratories. They have developed an innovative new line of products which contain pharmaceutical grade Resilient Hyaluronic Acid ("RHA"). Hyaluronic acid is a component that is naturally occurring in our skin and is known as "nature's ultimate hydrator". It is a key component in skin's ability to absorb and help retain hydration. However, as we age our skin's ability to produce hyaluronic acid decreases, leading to the appearance of wrinkles and fine lines. RHA was originally developed for use in dermal injections; however, now, thanks to Teoxane's innovations, RHA has been integrated into topical skincare as well!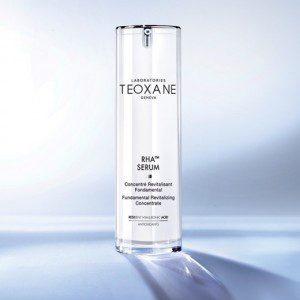 Teoxane RHA Serum: Teoxane's RHA Serum is an exciting new product that uses cross linked hyaluronic acid, which is the same product used in derma-filler injectables. Developed in Geneva, this innovative new brand is currently the only product on the market to use this cross linked technology which increases skin's absorption of the product through creating a mesh like hydration matrix that sits on top of the dermis. Teoxane's RHA Serum helps to plump, tone, and brighten the skin. In a recent study performed on skin hydration and elasticity the use of Teoxane's RHA Serum showed statistically significant results, increasing both hydration and elasticity levels over the 28 day trial period, with noticeable results reported in as little as 14 days. For optimal results we recommend using Teoxane's RHA Serum in conjunction with your normal filler regimen.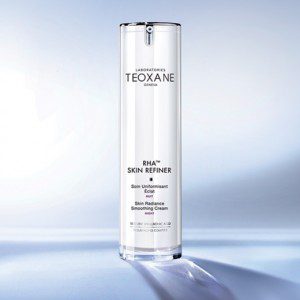 Teoxane Perfect Skin Refiner: For patients looking to achieve both hydration as well as a mild resurfacing of the skin Teoxane's Skin Refiner is a perfect match. This product contains the patented Teoxane cross linked hyaluronic acid as well as resurfacing ingredients such as glycolic acid. It also contains rose water and additional antioxidants that help to calm and sooth the skin. We recommend that you apply 1 to 2 pumps of this product to the face and neck after cleansing and to avoid the contours of your eyes and lips. Patients often report seeing a brighter more radiant complexion in as little as 15 days. This product has also been used to help even out slight variations in skin pigmentation.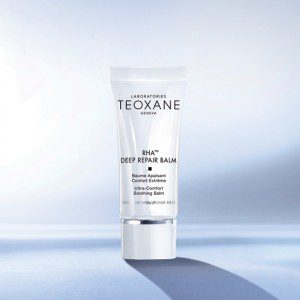 Teoxane RHA Deep Repair Balm:   This deep penetrating and soothing balm helps to replenish and restore the look and feel of skin that has been irritated due to surgery, injectables, dermabrasion, or other aesthetic procedures that may cause the skin to appear red or inflamed. We also recommend patients use this product to help repair skin that has been damaged by wind, cold, or sun exposure. Teoxane's RHA Deep Repair Balm contains arnica as well as helichrysum; both ingredients are naturally occurring compounds that are known for their abilities to help reduce inflammation of the skin and aid in heeling. The RHA Deep Repair Balm can be used as part of a night regimen, as a deep moisturizing mask or after in-office aesthetic procedures such as microdermabrasion and injections. Patients often report noticing a difference to their skin in as little as 120 minutes after application, noting a reduction in redness and irritability.
To order products or to schedule a consultation with Dr. Sullivan, or his specially trained team of aesthetic nurse practitioners, please contact us or call us at 401-831-8300.
Read more about Teoxane at Beauty in the Bag here: http://www.beautyinthebag.com/wordpress/?s=Teoxane&x=-845&y=-295
View an educational video on the Teoxane line and learn more about these exciting products here: http://alphaeon.com/healthcare-specialist/products/list